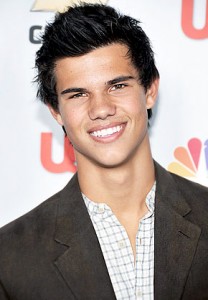 In anything, apparently. This hotter than hot young Twilight lad has got Hollywood clamoring for him. The latest scuttlebutt from Variety is that Lionsgate has paid big bucks for Lautner's next gig, Abduction, a thriller about a young man who discovers his own baby picture on a missing persons website. There was apparently a heated bidding war over the spec script from writer Shawn Christensen, with Lionsgate shelling out the most cash. Lautner's recently developed production company Tailor Made Prods. (get it?) will also be co-producing. Enjoy it, Taylor and be smart. LEARN. Because it can all end if you make bad movies.
In other casting news: Seann William Scott and director/writer Kevin Smith are teaming up for Hit Somebody, Cinematical reports. It's about a hockey player who's better at slamming guys than playing the game (hmmm, sounds a little like Tooth Fairy). But since Smith is passionate about the sport, it could be a natural fit for him. God knows he needs more of those. There's also talk Scott might reprise his defining role as Stifler, from the American Pie series. He told Coming Soon, "I've been talking to them about it and there's a possibility. We came up with an awesome idea and I'm kind of at the point where I'm already known as that character forever anyways. As much as I want to do a part like Christoph Waltz in Inglourious Basterds, I did American Pie three times and then versions of that in ten other movies. If it makes sense and if it makes people laugh than maybe." Good luck with that.
Cutie Jeffery Dean Morgan of Watchmen fame is set to do a film with Sam Worthington of Avatar fame called The Fields. According to the Hollywood Reporter, Morgan will star as a detective transplanted from New York, while Worthington will portray a local investigator probing a series of unsolved murders in industrial wastelands surrounding Gulf Coast refineries, where as many as 70 bodies have turned up over the past two decades. Together they wage a war against the unknown assailants. Ahhhh, tense.
And finally, Al Pacino and Channing Tatum will go toe-to-toe in Son of No One about a young cop, who is assigned to a precinct in the working class neighborhood where he grew up, with an old secret surfacing and threatening to destroy his life and family, says the Reporter. Sounds all-too familiar to me, but I'll see hunky Tatum in just about anything.