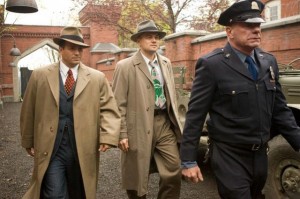 Scorsese and DiCaprio hit it again. As the movies released start getting better, we've got our second score in a few weeks with Shutter Island, which took the top spot from last week's Valentine's Day.
Here is the top five at the box office this weekend:
1. NEW! Shutter Island (Paramount) – $40.2 mil; 2,991 theaters; $13,440 PT
2. Valentine's Day (Warner Bros.) – $17.1 mil; 3,665 theaters; $4,682 PT; $87.4 cume
3. Avatar (Fox) – $16 mil; 2,581 theaters; $6,238 PT; $687.8 mil cume
4. Percy Jackson & The Olympians: The Lightning Thief (Fox) – $15.3 mil; 3,396 theaters; $4,505 PT $58.7 mil cume
5. The Wolfman (Universal) – $9.8 mil; 3,223 theaters; $3,055 PT; $50.3 mil cume
Slowly but surely the movies are getting better and bigger. I think holding Shutter Island's release date until now (it was supposed to open last October) may have been a smart move since the movie gained some anticipation in those months. Could it have been an Oscar contender? Perhaps. The acting is certainly good enough and the film's aesthetics are top-notch, so it could have had a chance at snagging some nods. But it seems like the studio didn't have enough faith and wanted to open it with less competition — and obviously, it paid off.
This upcoming weekend isn't AS strong, but movie-going peeps might be into a buddy cop flick with Bruce Willis and Tracy Morgan in Cop Out. OR they might be into zombie movies with the horror film The Crazies. Either way, it's all just gearing up for the Mar. 5 release of Alice in Wonderland, which should open huge. How huge, though? Anyone want to take a guess? I'm going to say between $70-$80 million. That's high, I know, but I think audiences are ready for a tentpole movie.
In the meantime, I'll leave you with the trailer for The Crazies, cause that's just the kind zombie-lovin' gal I am: