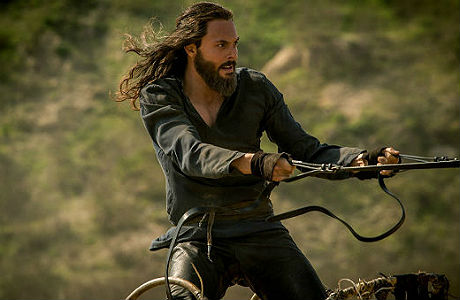 In the hands of director Timur Bekmambetov, this re-imagining of Ben-Hur is true epic action adventure wrapped up in a classic story of brotherly love, betrayal, forgiveness and finally redemption.
ScreenPicks talked with the men of the film – Jack Huston (Judah Ben-Hur), Toby Kebbell (Messala), Rodrigo Santoro (Jesus) and Morgan Freeman (Ilderim), and learned these nine things about making Ben-Hur.
On apprehension of doing another Ben-Hur:
Morgan Freeman: None! All the more reason to do it. It's a re-imagining of a story that's already been told three or four times. At least twice before in movies. I worked with Timur before. I know he's very innovative when it comes to special effects and stuff like that. I couldn't see how it was not going to be an exciting adventure.
On playing Judah Ben-Hur:
Jack Huston: I initially went after the role of Messala, which was interesting because I went and sat down with Timur and in my rather impassioned way spoke about Messala. Timur being Timur just sat and wrote everything down. Then later he said to me, when I'd gone out for a few auditions, "I think you might be right for Judah. I think you're our Judah." Then I went and tested and I somehow got the role. He said later to me, "The reason I felt that about you as Judah is not only did you feel like Judah to me but it was the way you spoke about Messala. You spoke about Messala with such love that he was never the bad guy to you." He said, "For you two to have that relationship, it had to stem from real love between two brothers, and that's how Judah felt about Messala." Inadvertently, it was a beautiful way into the character, because the people who love you the most sometimes are the ones who hurt you the most. For this movie to work, that had to stay true, right to the very end. For the redemptive moment, for that last bit of forgiveness, you need to feel these brothers' love. I was like, "Hah, Timur, you're a smart dude. You got this. I feel good." Continue reading How to Interview: 9 Things to Know About "Ben-Hur" →