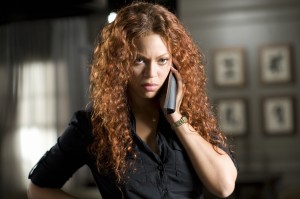 By getting into one hell of a catfight with Heroes star Ali Larter is my guess. Their new flick Obsessed — a Fatal Attraction-esque smackdown between the wife (Beyonce) and the psycho temptress (Larter) after said psycho has a fling with the hubby (Idris Elba) and comes after the family — won the box office this weekend with $28 million. Surprising? Maybe a little. The film didn't pre-screen for critics, but those who did venture out to review it didn't like it much. For example, Cinematical's Scott Weinberg says:
Too "safe" to be a provocative thriller or an incendiary drama, and it's way too flat and sedate to qualify as a movie bad enough to mock.
Ouch. Or this quote from Entertainment Weekly's Owen Gleiberman:
It's doubtful that Obsessed will stick in the popular imagination for more than two weeks, because the movie is borderline ludicrous, and it jams its characters into rigid slots.
Yes, well, never underestimate a good climactic fight scene in which the wife gets to beat the crap out of the other woman. I mean, there's  some major anger management therapy going on, and I bet there were more than a few women in the theaters rooting Beyonce on. Here she is talking about it on Access Hollywood:
You go ahead and head butt that beyotch, girl!