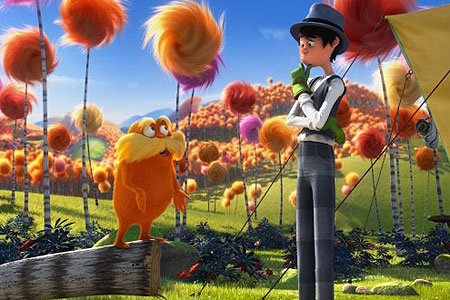 Step 1: Don't cut down any trees or The Lorax is going to have to come down and kick your ass! Or maybe I should say butt, since this is a family movie.
Step 2: Keep it simple. Dr. Seuss' The Lorax is really a simple message about industrialism and the environment, all tied up in a colorful Dr. Seuss bow. The story centers on 12-year-old Ted (Zac Efron), who lives in a town called Thneedville where there are no trees and people have to buy fresh air in giant containers (from the town's short greedy millionaire). It's a happy place, full of plastic things, but all Ted cares about is winning the heart of his next-door-neighbor Audrey (Taylor Swift) – and when he finds out she wants a real Truffula Tree, he decides he's going to get her one.
Step 3: Get a Truffula Tree. But where does one acquire such a thing? Ted's Grammy (Betty White) tells him he has to go outside the confines of the town and find the Once-ler (Ed Helms) and he'll show Ted how to get a tree. Once outside in the grim, polluted wasteland, Ted does indeed find this mysterious character, who tells Ted he was the one responsible for the lack of foliage. The Once-ler then launches into his tale of ambition and greed at the expense of the environment – and how an odd creature named The Lorax (Danny DeVito) tried to stop him. Now, The Once-ler is just waiting for the right person to help him redeem himself.
Step 4: Say it right. The vocal talent fit their characters succinctly, with no one actor outshining the rest. Helms perfects the optimistic doofus role once again, while DeVito plays the acerbic, grumpy yet ultimately wise The Lorax with aplomb. Efron has the right mix of innocence and determination as Ted; Swift doesn't have to say too much – and of course, White has some of the better lines. What in the world did we do before Betty White resurfaced as the funniest 90-year-old woman on the planet?
Step 5: Long live Dr. Seuss! Although the 1971 The Lorax wasn't one of the Dr. Seuss books I grew up with, they are all still very familiar in look, feel and content. This film pays homage to that – and in CGI 3D, no less. It's bright, colorful, strange and wondrous, and any small child should be thrilled to be immersed in the surroundings. My only complaint about The Lorax would be as an adult. I've gotten used to animated films appealing to an older audience with clever pop culture references and hilarious, over-the-heads-of-the-small-ones-sitting-next-to-you dialogue. Not a whole lot of that in The Lorax, but that's OK. There's still that great message about going green, which, in my opinion, never grow