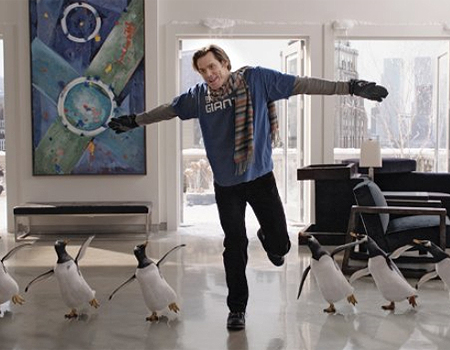 Step 1: Go ahead and pop this Penguin treat. The Jim Carrey comedy is the kind of brain friendly family entertainment perfect for a summer movie.
Step 2: Add penguins. Seriously, you could be watching the worst movie ever made and if they happen to stick in an adorable penguin, suddenly the film isn't so bad. Based on a 1938 children's novel, the Mr. Popper's Penguins story is simplicity to the point of formulaic. Popper (Carrey) is a workaholic real estate whiz who specializes in getting people to sell their old properties so he can tear them down and build shiny new buildings. Popper has an ex wife (Carla Gugino) and two kids (Madeline Carroll and Matthew Perry Cotton) he doesn't pay a lot of attention to. Wait, is this sounding a little like Carrey's other comedy Liar, Liar? Yes, but unfortunately not quite as funny.
Step 3: Don't fight the penguins. Things start to change for Popper when his late father, a professional adventurer who was never home when Popper was a kid, leaves him six "souvenirs," aka Gentoo penguins from the Antarctic. Suddenly, Popper's pristine co-op Manhattan apartment turns into a happy fun place for the flightless fowl, who also begin to take over Popper's life – for the better. His kids love the little rascals – Loudy, Stinky, Lovey, Nimrod, Bitey and our favorite, Captain – and want to spend more time with dad, as does the ex wife. Of course, his career suffers, but well, it should, right? Popper has to take a hard look at himself, right?
Step 4: Learn something from the penguins. Mr. Popper's Penguins is about as predictable as it gets, which would have been fine if Jim Carrey has been more on top of his game. He really needed to tap into his good old zaniness as Popper. There are a few choice moments – especially with the penguins, because let's face it, you gotta have SOME kind of crazy Carrey comedy with those little cuties – but it wasn't enough; you really crave his facial contortions and wacky impressions. Maybe Carrey is getting tired of all that. I hope not.
Step 5: Let the penguins work their magic. The rest of the cast all do a serviceable job supporting the main players. And yes, I'm talking about the Gentoos. They completely steal the show. What is about penguins that make us all go "Awww"? From the incredible documentary The March of the Penguins to the animated Happy Feet, these lovable creatures are simply cinematic naturals. Mr. Popper's Penguins uses the real deal for most of the movie (and they DON'T TALK), with only a few up close "reaction" shots generated by computer animation. The winged actors are incredibly smart and as long as you had some kind of fish on your person, you could get them to do just about anything. Apparently, Carrey bonded with his co-stars by literally having fish in his socks. He admits in the press notes he has an obsession with penguins, saying it is physically impossible not to be happy around them. "They are like puppies, times ten!" I wholeheartedly concur. All in all, Mr. Popper's Penguins will certainly delight the kiddies, but their parents might wish for a tad more Carrey irreverence.