I'd like to introduce Robert Sims to you. I met Robert working at Hollywood.com, when he was the news editor there, and I learned a LOT from him as a writer. We have both since moved on (thank god), and Robert has worked for Star magazine as well as Palm Beach Daily News and several websites including Comingsoon.net and Shock Til You Drop.
And now I'm lucky enough to have him contribute to my site. He's at the SXSW Film Festival at the moment, so stay tuned for lots of coverage and reviews. Here's his first installment: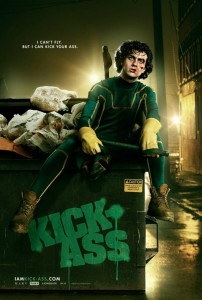 1. Know the weather. Pack a sweater and a light jacket if you're heading to Austin for the SXSW Film Conference and Festival. The mornings and evenings can still be a little chilly here in Texas Hill Country, but things do warm up by lunchtime and you'll be happy to walk to screenings in just a short-sleeved shirt.
2. Create your http://my.sxsw.com/ account. This is a terrific way to plan ahead. It allows you to generate your own day-to-day SXSW schedule. You can prevent scheduling conflicts—there are 134 features showing, some at the same time as panels featuring such directors as Quentin Tarantino, David Gordon Green and Michel Gondry—and work out how much time you have between screenings and panels. There also is a message board if you feel like touching base with other SXSWers.
3. Line up early at Paramount Theatre. This historic venue in downtown Austin boasts 1,200 seats, so you should be able to seat for the likes of Kick-Ass, MacGruber and The Runaways. But arrive as early as possible or you may not get a decent view of the screen. Certain orchestra seats toward the end of the rows that partially blocked views.
4. Line up early for any Alamo screenings. There are few better movie-going experiences watching a crowd-pleaser while kicking with some nachos and beer at these venues that serve food with your film. The problem is, film fans love to crowd into the Alamo theaters. So arrive at least one hour before your film starts—even if you don't think it's going to be popular. You're competing against an educated audience in Austin, so they already know what films are worth seeing even if there's little to no hype. The Alamo Ritz is within walking distance from the Paramount Theatre, but you'll need to go by car to get to the Alamo South Lamar.
5. Relax and enjoy yourself. SXSW puts on one of the coolest film festivals in the United States. Chances are, you're not going see every film or attend every panel, simply because there's too much going on at SXSW. But if you have any additional questions about surviving SXSW, visit http://sxsw.com/film/news/faq