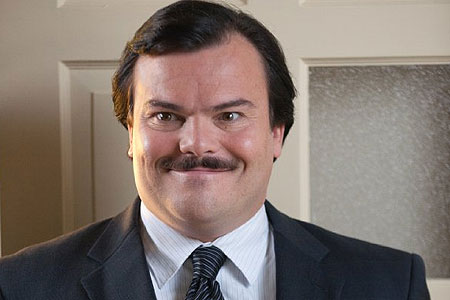 Step 1: Gain a perspective. Director Richard Linklater paints a wonderfully vivid depiction of what happens when good is pushed just a little too hard by evil.
Step 2: Live in Texas. Set in a small town in the Lone Star State, the film is based on a true story and told to the audience by the townsfolk who witnessed the events. They describe the relationship that springs up between Bernie (Jack Black), the town's assistant funeral director who is adored by all, and Margery (Shirley MacLaine), a cantankerous widow pretty much despised by all. Bernie sees Margery as a challenge and begins to visit her regularly after her husband dies, showing her a kindness she's never had.
Step 3: Remember all you need is friends. The two become good friends, and are soon traveling the world on Margery's dime. Mean old Margery, however, sees Bernie as a companion she can manipulate and demand attention from, knowing he'd never buck her so long as she was fitting the bill. But even a man as nice and goodhearted as Bernie has a breaking point – and Margery finally crosses that line one last time. Oh, what happened next was rich!
Step 4: Realize Jack Black CAN act. His turn as the kindhearted mortician in Bernie could be his best performance since School of Rock, which, coincidentally, was also helmed by Linklater. Hmmm. It would seem the two bring out the best in each other, and in Bernie's case, both Linklater and Black show a nuanced skill never seen before in their work. Black infuses the character with some of his usual patter, including belting out gospel songs (that you probably won't find on his next Tenacious D album), but the comedic actor also stretches himself, never playing Bernie over the top. It is an impressive effort from the guy who hasn't had much luck in films the past few years (Gulliver's Travels?) – if you don't count voicing an overweight panda with mad Kung Fu skills.
Step 5: Find out that the townspeople sell it. MacLaine is wonderful, too, a part she surely can do in her sleep. Difficult women come easy to her, for some reason. I just wish we could have seen more of her in Bernie before her ultimate demise. Matthew McConaughey, a good old Texas boy himself, plays no-nonsense DA Danny Buck Davidson who ignores the pleas from the townsfolk that Bernie is innocent of murdering Margery and brings the man to justice. And the best part of the dark comedy IS the townspeople telling the story. They are a combination of real denizens from the town and actors, but you really can't tell the difference. In fact, one of the town gossips in the film is McConaughey's mom (now try and figure out which one she is).
Step 6: Dysfunction is good. Linklater is the final piece in this delightfully dysfunctional puzzle. Also hailing from the Lone Star state, the Dazed and Confused director puts you right there in Carthage, Texas. There isn't one moment in which you are taken out of the milieu and placed on a Hollywood set; Bernie feels authentic. The talented Linklater allows these characters to be drawn out, Texas-style, as we continually grow more and more fascinated by the turn of events. You'll definitely root for Bernie, just like all those people who loved him — and the movie. It's truly a gem.