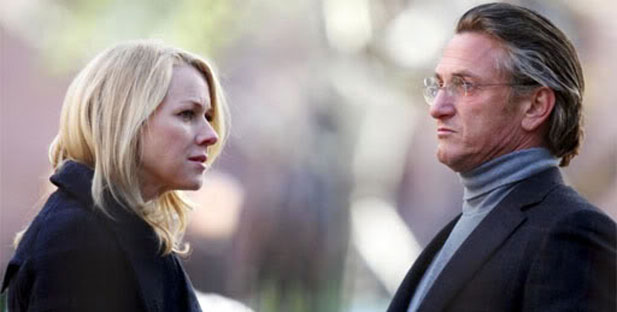 Step 1: Set your jaw. Fair Game may make your jaw hurt from clenching your teeth as you watch the sheer audacity of the Bush Administration.
Step 2: Tell the story. The action focuses on Valerie Plame-Wilson (Naomi Watts) and her husband Joe Wilson (Sean Penn). Valerie works diligently at her job as a CIA Weapons of Mass Destruction (WMD) counter-proliferation operative, while Joe, a former Iraqi Ambassador, runs his own consulting company. After 911, the Bush Administration rattles its sabers once again at Iraq, but they can't quite pin down that one nagging piece of intelligence they so desperately need to go to war against Saddam Hussein: the evidence Hussein is building WMDs. The Vice President's office asks the CIA to double check some discredited intelligence that, if it were credible, would give the U.S. a reason to invade Iraq.
Step 3: Tell the truth. The CIA, in turn, asks Valerie to bring in Joe, who has valuable experience and knowledge, and sends him on a pro bono trip to Africa to check out the lead. He determines that the intelligence is bogus; the existence of materials to make WMDs in Iraq are simply not there. Period. The White House chooses to ignore this, plus other clear information no nuclear threat exists, and goes ahead with the war plan anyway. The outspoken Joe can't stomach the lies — especially when President Bush cites JOE's findings as one of the reasons to attack Iraq in his speech to Congress — and writes a "liar, liar, pants on fire" op-ed piece for the New York Times, basically discounting much of the president's speech and ruffling many feathers. The Vice President's office, in retaliation, runs a smear campaign, outing Valerie Plame as a CIA agent and causing all sorts of issues for the Wilsons, both personally and professionally, as well as the real WMD counter-proliferation operations world wide. Who does that, honestly?
Step 4: Fight back. Director Doug Liman (Mr. and Mrs. Smith ) masterfully crafts a film that shows the human costs of vindictive politicians and their minions. Plame is removed from all operations and booted from the CIA, her stellar career squashed to send a message to others at the agency to give the Administration what it wants… or else! Iraqi scientists are left to fend for themselves after they are given assurances by Plame that she would get them out before other countries kidnap them and force them to work on nuclear bombs. Joe immediately goes on the offensive, sitting down in front of whatever camera and on whatever show that will have him to tell the truth, while his wife resists, not wanting to betray the silence that is expected of her, that is expected of anyone who works in the intelligence biz. But when the Bush Administration finally pushes too far, and it becomes personal, and Plame joins her husband in pushing back.
Step 5: Validate. It doesn't seem much of a stretch for Penn to portray Joe Wilson, compared to some of the roles he's won Oscars for, but it's still another brilliant character study to add to the actor's repertoire. Penn as Joe represents the best part of being American: freedom of speech and standing up to those powers that be, even if can he a little too dedicated to the cause without seeing how it effects those around him. Watts, too, does a wonderful job as the more introverted yet highly skilled Valerie Plame. The actress plays Valerie with a fair amount of resentment towards her husband for creating the mess, but then ultimately respects him for sticking to his principals. The two actors have a very comfortable rapport, making the Wilsons' relationship valid and genuine. Oscar nods could very well be forthcoming.
Step 6: Get pissed. Bottom line for me is Fair Game makes me mad at the Bush Administration all over again. While there was some small retribution in the Plame-Wilson case — The Prince of Darkness, er, I mean, Vice President Cheney's lackey Scooter Libby was convicted of leaking the information about Valerie — it's not enough. I can only hope that what goes around, comes around.
Level of difficulty in watching Fair Game: the only thing difficult is not being able to punch Bush and Cheney in the face.