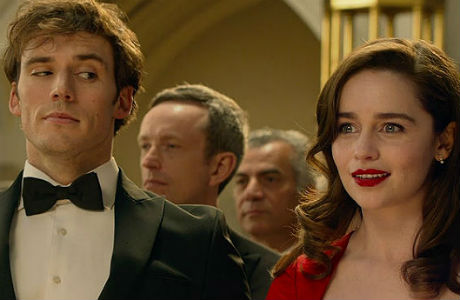 Step 1: Fits the bill. As far as weepy summer romantic dramas go, Me Before You may be a tad more predictable and not quite a three-hankie tearjerker, but it still achieves the requisite feels, buoyed by an effervescent performance from Emilia Clarke.
Step 2: Keep the same writer. Based on the novel by Jojo Moyes, who also wrote the screenplay, Me Before You tells the story of one Louisa Clark, known as just plain Lou, a happy-go-lucky girl who fancies herself a fashion plate (albeit an odd one), has a longtime boyfriend (Matthew Lewis) and generally loves life in the small England town where she lives. When she loses her job at a local cafe, however, Lou has to figure out quickly what to do next so she can keep helping to support her family. That's how she meets Will Traynor (Sam Claflin), a former finance genius who is paralyzed from the neck down after being hit by a motorcycle and has pretty much given up on life. In fact, we find out he's determined to end his miserable existence.
Lou doesn't know that, though, and so when she is hired by Will's mother, Camilla (Janet McTeer), to look after him, it's Camilla's hope Lou can change her son's mind. Lou just sees it as a good job, but as hard as she tries, she can't get Will to show any interest at first. Or does he? I mean, Lou is a little hard to resist with her amazingly charming ways, so soon Will is won over and the two spend quality time together, eventually falling for one another. Lou does find out what Will's true intentions are, but is their love enough for Will to hang on? One thing is for certain, their lives are forever changed by the love they find. Okay, now it's time to grab the tissues.
Step 3: Step out of your comfort zone. How refreshing to see Clarke move away from the badass Mother of Dragons she plays in Game of Thrones to take on the role of a quirky, homespun girl who loves bumblebee tights, bright-colored shoes and boy in a wheelchair. Don't get us wrong. We love us some Daenerys Targareon, but of course, that's just Clarke playing a part, and the actress can obviously do more (she even tackled Sarah Connor in last summer's Terminator Genisys). As Lou, Clarke has so many wonderful facial expression and joie de vivre – and not obnoxious in any way – it's really hard not fall in love with her. While Me Before You really is Clarke's film, Claflin's good-looking charms come shining through. The Hunger Games star has the unenviable job of being stuck in a prone position, but he doesn't play it one note. He and Clarke stir up the requisite amount of chemistry to make us care. When Will tells Lou at one point how hard it is he can't do all the love-making thing he wants to do to her, you feel it. And it makes it all that more sad.
Other standouts are veteran British actors McTeer and Charles Dance as Will's parents. Their combined acting experience elevates the tragedy of the situation, especially McTeer as Camilla, who so desperately wants to hold onto to her son, in whatever condition he is in. Oh, and as an added and delightful bonus, we get to see Harry Potter star Matthew Lewis (that would Neville Longbottom) all grown up and playing Lou's selfish douche boyfriend who doesn't understand her in any way.
Step 4: Love the castle. Director Thea Sharrock makes her feature film debut with Me Before You and while she doesn't weave any magic, she manages to bring you into Lou and Will's love story quite effectively, while also highlighting the quaint little town they live in – a town with the ruins of a grand castle at its center. If you have to grow up in such a small town, this isn't all that bad. The only real flaw is Me Before You just doesn't quite hit the notes with as big a punch as you want it to. Moyes adapts her own work, which probably helps, but the tragic romance doesn't produce those wracking sobs like The Fault in Our Stars did or have enough off-beat humor like Me and Earl and the Dying Girl.
Still, Me Before You has enough laughs and sighs and tears to place it firmly in the must-see romantic drama category.