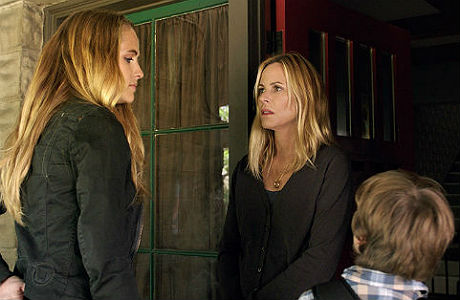 If you're human, then you've been afraid of the dark at least one time in your life – and the latest horror film Lights Out plays right into that fear.
Swedish filmmaker David F. Sandberg, who, along with wife Lotta Losten, first created the Lights Out story two years ago as a short film for a competition. That film went viral on YouTube with over one million views – and naturally, Hollywood came calling.
Sandberg had to flesh out the story a bit to make his first feature film, so he centered it on Rebecca (Teresa Palmer), a young woman who realizes her little half-brother, Martin (Gabriel Bateman), is experiencing the same events that once tested her sanity. Rebecca works to unlock the truth behind the terror, which brings her face to face with an entity who cannot survive in the light and has an unnatural attachment to their mother, Sophie (Maria Bello).
At the recent press day, ScreenPicks sat down with stars Palmer and Bello to talk about the creepy Lights Out. Continue reading How to Interview: Teresa Palmer and Maria Bello on "Lights Out" →