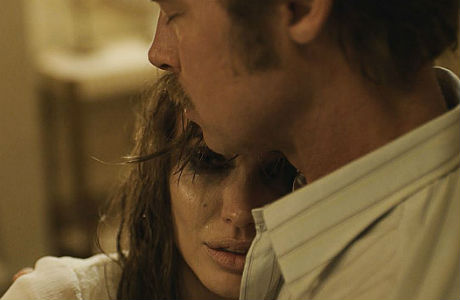 Step 1: Hang out By the Sea. Angelina Jolie Pitt efforts to create a languid and lush '70s European art movie and reunites with her onscreen with real-life hubby Brad Pitt as they play out a disintegrating marriage. However, the intent to show something meaningful, something personal is lost in the slow, morose drag of it all.
Step 2: Cry by the sea: Pitt plays Roland, a stalled writer desperate to find inspiration for his next book who brings his depressed wife — Vanessa (Jolie Pitt), a former dancer – to a quaint and beautiful French seaside town so he can write. There is some unknown tragedy that hovers over them, some past hurt that clouds their relationship, and once they get there, all Roland does is drink at the local cafe, while Vanessa just sits around in their hotel room, refusing to participate in any way whatsoever. She'd rather just cry or drink wine and take mind-numbing drugs, while lounging on the balcony or in the bathtub, her dark makeup smeared around her eyes. Good times!
Step 3: Peep by the sea. Hope comes, however, when young newlyweds (Melanie Laurent and Melvil Poupaud) take up residence in the room next door. Roland and Vanessa befriend the couple through casual meet and greets, but through a peephole they discover in the wall near the floor, Roland and Vanessa also find a new hobby – watching the couple have lots of sex. Together. As they eat and drink and set up pillows on the floor. This act of voyeurism brings Roland and Vanessa closer together (because this is the '70s and there is no Internet porn) and so they spark. Not even close to the hotness the superstars showed in Mr. and Mrs. Smith but it happens. This connection with the other couple, however, also tears open even more wounds that Roland and Vanessa can no longer ignore, and in a twisted turn of events, they finally find a way to heal.
Step 4: Try to care by the sea. Problem is, the film doesn't really give us a reason to give a crap if Roland and Vanessa make it or not, and that's a failure on Jolie Pitt's part in not crafting a more solid script. The characters are pretty unlikable and without much back story — or scenes in which we see them happy, thus gaining some sympathy — just watching them mope around in such a gorgeous locale quickly grows tiresome. How many times do we have to see Roland smoke a thousand cigarettes and get sloppy drunk or Vanessa stare vacantly out at the sea? You can sort of guess what the major issue is between them, but once it's revealed, the impact is minimal. Still, this is Angelina and Brad playing these people, so the lackluster script is made almost palpable because these two command the screen, in whatever iteration that is. The moments they are seriously hashing it out are the best in the film. Also good is the supporting cast including Laurent, Poupaud and Niels Arestrup as a simple but world-wise local barkeep.
Step 5: Walk on By the Sea. As a director, Jolie Pitt clearly handles her job as a consummate professional, eliciting good performances from her actors (especially from Brad) and showing her keen eye in capturing honesty and beauty in either grand or very intimate ways. But unlike her two previous films, In the Land of Blood and Honey and Unbroken, By the Sea's personal story isn't as suited to her skills set. She wants this to be an artsy French film from the '70s, with moody music, little dialogue, lots of flowing scarves and long shots of a car driving on a winding road down to the sea — but it's too aloof. There's a lack of passion behind the camera that she's shown in her other movies. Angelina could have also benefited from a stronger editor, one who could have convinced her to shave off about a half hour. All in all, By the Sea is compelling at times but misses its intended mark. Whatever that is.