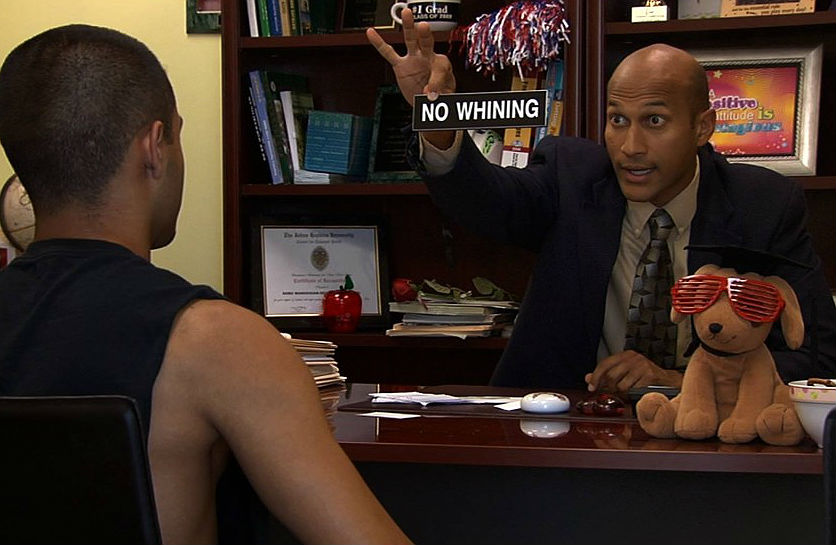 Step 1: Remember teachers are usually underappreciated. Teacher of the Year highlights this point to hilarious and poignant effect.
Step 2: Hand it to the guy. In this mockumentary, we meet Mitch Carter (Matt Letscher), a Californian English teacher who is awarded the national "Teacher of the Year" for his hard work teaching kids at Truman High School. Clearly, he's better than his thankless job, but he truly loves what he does, and the students — well most of them — know he cares. Carter, however, is faced with a dilemma when his newfound acclaim attracts the attention of education lobbyists in D.C. who want him to join their team to help speak for teachers nationwide… and they are going to pay him a lot of money to do it. Should he take the job or stay to be the best teacher in one school? Hmmm…
Step 3: Recognize some comic standouts.  Funnyguy Michael Keegan-Key, who is just about everywhere these days, slays you as the school's principal, a bureaucrat who just to be the kids friends but just comes off mostly as a giant idiot. As for Carter's co-workers, the hysterical Jamie Kaler plays the school's Robotics teacher, Steve Queeg, who thinks he should have been the one to get the award. As Queeg explains, "English is a dead language. Everyone already knows how to speak it. But robotics, now that's the future." Also, there's the two-man band Queeg formed with fellow teacher Eric Sanders (Karl T. Wright), who both explain that even though Sanders can't play the guitar or sing, they are excited about performing. Other standouts include college counselors, twin brothers Lowell and Clive Hammer (Jason and Randy Skylar), who just give the worst advice to the kids… the absolutely most hilarious bad advice ever.
Step 4: Applaud for job well done. Filmmaker Jason Strouse aptly combines humor with an honest depiction of what it's like educating our youth in this country. One of the best sequences is the parent-teacher conference night, from the screaming parents to the complacent ones, and how each teacher handles it. Ultimately, though, it's Carter's story, and Letscher brilliantly portrays the angst of an educator of his quality stuck working in the inhibiting bureaucracy of the US school system, but who loves the high of reaching kids who appreciate his efforts to teach them. While making you spit out your drink with laughter, Teacher of the Year also warms your heart and gives hope that there are more teachers like Carter out there.