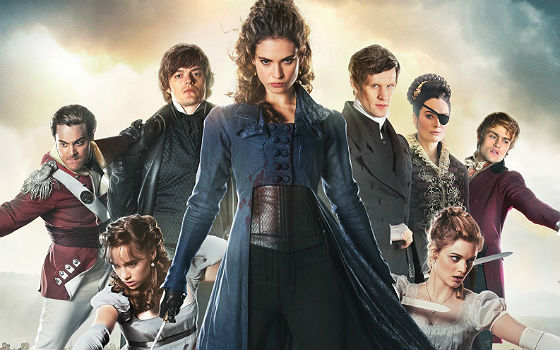 Step 1: Bring it to life. A big-screen adaptation of Seth Grahame-Smith's best-selling novel Pride and Prejudice and Zombies took some time to reach theaters, but it was worth the wait. PPZ is rip-roaring, zombie guts-spewin', conventional Jane Austen  fun.
Step 2: Twist something classic. Grahame-Smith's whole point in writing this absurd novel is to take Austen's classic tale of pride and prejudices in the Victorian aristocracy — keeping all the wonderful characterizations, including the independent Elizabeth Bennett navigating her way through the BS of the time – and throw in a twist about a plague of zombies ravaging England. And why not? Most stories are made better with zombies, I'd say. Love those undead brain munchers.
Step 3: Realize killing zombies works for the Bennetts. Instead of just sparring with words, Liz Bennett (Lily James) and her maddeningly pragmatic but ultimately dashing Mr. Darcy (Sam Riley) clash swords as well. In that pivotal moment when Darcy first proclaims his love for Liz, despite his better judgment and her breeding and whatever else he finds wrong with her, she not only looks at him like he's completely nuts, she also beats the crap out of him. Brilliant. It's all the repressed frustrations of the era played out in a kick-ass milieu because these Bennett sisters, including Jane (Bella Heathcote), Kitty (Suki Waterhouse), Lydia (Ellie Bamber) and Mary (Millie Brady), have all been expertly trained in the Chinese arts to kill zombies. Their progressive father (Charles Dance) has made sure his girls can take care of themselves, and whenever they all go out, they take plenty of weapons hidden in their garters and undergarments. The Bennett girls' buffoonish mother (Sally Phillips) naturally still wants to marry them all off. PPZ follows Austen's novel to the letter in that regard, introducing the lovesick Mr. Bingley (Douglas Booth) as Jane's paramour; the doofus Parson Collins (Matt Smith) as a potential husband for Liz; caddish soldier George Wickham (Jack Huston), who causes more than a little trouble for the Bennetts; and finally Mr. Darcy, one of the most romantic characters in all of literature. Any love attachments, or lack thereof, are tampered with the fact the undead are most assuredly encroaching, and their little section of English countryside has to be fortified and protected, at least long enough for them all to be married!
Step 4: Cast young, beautiful and mostly British people (Bella Heathcote is Australian). They all handle the Austen speak with aplomb, as is their birthright to do so. These young actors – James, Riley, Smith, Booth, Huston – are quickly becoming the new "It" Brits in film, especially the lovely James, who made a splash in Downton Abbey but hit it big when she starred in Disney's Cinderella. Her spunky Elizabeth Bennett might not be the best one to date (still partial to the Keira Knightley version), but James fits well into this absurd new Pride and Prejudice, as does Heathcote as Liz's older, more refined blonde-haired sister, Jane. And they both handle the weaponry like pros. As for the boys, Riley does a fine job as Mr. Darcy but slightly misses the opportunity to be more romantic towards the end because, well, there are zombies to fight. Smith, who is best known as Dr. Who from 2010-2014, is the one who nearly steals the show as the geeky Collins, with his little asides and gestures. He's flat-out hilarious. Oh, and we have to mention Lena Headey as Darcy's aunt, Lady Catherine de Bourgh, an eye-patch wearing, once glorious zombie-killing warrior. A real badass take on that character.
Step 5: Reiterate that this Pride and Prejudice remains completely faithful to Austen's classic. Director Burr Steers (Igby Goes Down) films PPZ as if it's the BBC production, with lush English countryside vistas, gorgeous period costumes and hair, and with many of the book's iconic moments intact. But by simply adding the zombie component, the whole feel just lends a fantastical element to the proceedings, and enhances many of the classic novel's themes. Some of the supernatural plot points go a little over the top (primarily with the "levels" of zombie-hood that could be reached), but PPZ is completely entertaining all the way through. Those young folks into zombies will also get a literary lesson and while they might not rush out to read Austen's novel, they might check out another, more traditional cinematic version of Pride and Prejudice.