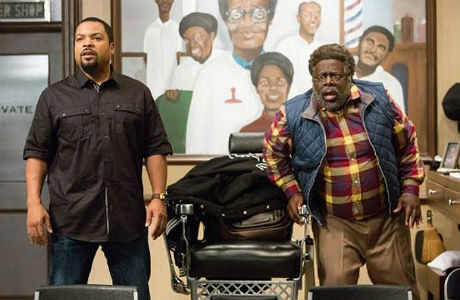 Step 1: Keep it fresh. For a third installment in a series, Barbershop: The Next Cut feels just as original and relevant as if this were the first one.
Step 2: Meet the players. Some of the familiar faces have returned like shop owner Calvin (Ice Cube) and his mainstay barbers Eddie (Cedric the Entertainer), Terri (Eve) and food truck owner J.D. (Anthony Anderson), who returns after skipping the second Barbershop. There are also many new characters, including barbers Rashad (Common), who is married to Terri, Jerrod (New Girl's Lamorne Morris), One-Stop (J.B. Smoove) and Raja (Utkarsh Ambudkar). Plus, Calvin has expanded the barbershop and is now in business with beauty shop owner Angie (Regina Hall), with her hair stylists Bree (Margot Bingham) and Draya (Nicki Minaj).
Step 3: Keep it real. While the same fun Barbershop comedy and shenanigans are still in abundance, this Barbershop also focuses on the very real topic of gang violence on the streets of Southside Chicago, and how the barbershop is one of the last places that is considered a neutral zone, where people can just come in and be themselves. In an effort to take back their community, Calvin, Angie et. al. call for a cease fire for 48 hours, in which anyone can come in for a free cut. The Next Cut also takes a look at family, as Calvin deals with his 14-year-old son (Michael Rainey Jr.) and the peer pressures he faces to join a gang.
Step 4: Recognize the talent. Star Ice Cube, director Malcolm D. Lee and writers Kenya Barris and Tracy Oliver impress on many levels with this third installment. They not only keep in the same vein as the other Barbershop movies, but they allow the film to step up and present a positive message, a story about a community coming together to try and stop the violence on the streets. They don't pretend they can solve the problem, but Cube's considerable influence should get people to listen. Cube and the Barbershop gang also have just fun with it. This is a movie after all, and one that follows two films that were successful for outrageous comedy, so Next Cut follows suit, especially with comedians J.B. Smoove, Cedric the Entertainer and Deon Cole. There's also great back and forth between the men and women that's all relatable. And props to Nicki Minaj – the singer's got some comedy chops.
Step 5: The best thing about this third Barbershop is that you don't have to see the first two to appreciate the humor, the characters and the great positive message it sends out.