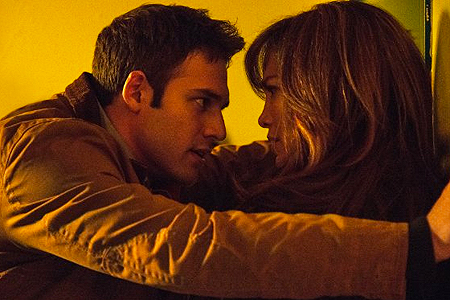 Step 1: Know that movies opening in January tend to be less than stellar – except if the film is a leftover from last-minute Oscar contenders that were released in theaters for about a week in December. Releasing in January is a studio's way of minimally investing in a movie. "Boy Next Door" falls into this category but it's also simply crapTASTIC!
Step 2: Expect pretty much what you expect. Seriously, the "Boy" trailer says it all: older woman seduced by way younger (but legal) guy who turns out to be a menacing psychopath. Jennifer Lopez plays said older woman, Claire, a high-school English teacher trying to bounce back after her husband cheated on her. Ryan Guzman plays said 19-year-old psychopath, Noah, who at first impresses Claire by quoting Homer's "The Illiad," seduces her big time, and after their super hot one-night stand, obsesses over her in the most dangerous way. You've got the stereotypical side characters: the estranged husband (John Corbett), who poses a threat to Noah; Claire's teenaged son (Ian Nelson), who Noah befriends and tries to turn against his dad; and the meddlesome BFF (Kristin Chenoweth), who you just know has to be disposable.
Step 3: Recognize some key casting choices. Plainly speaking, there is some major eye candy, and with a movie like this that totally counts. This is a nice re-introduction to always-hot Lopez, who hasn't graced the big screen in two years. Then there's hunky Guzman, who is all abs and smoky seductive looks and, who, well, clearly knows what he's doing under the sheets. Any warm-blooded woman out there could completely understand why lonely Claire would go to bed with him, plus Lopez and Guzman's sexual chemistry is palpable. Wow. Claire, of course, quickly comes to her senses, but even when Noah starts going off the rails, one wonders if she just pretended for awhile to be into it, sleep with him a few more times (hey, a girl's got needs), things might have gone smoother.
Step 4: End a stalker thriller like this in a spectacularly cheesy way. One of those climactic moments that has the audience literally cheering for all the gore. Even though its predictable, "Boy" doesn't really try to do anything more than what it sets up, and it might just gain a cult following who'll play a drinking game, taking a shot every time Lopez yells, "Noah, no!"