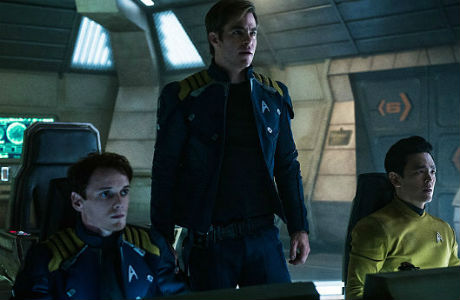 The action-packed Star Trek Beyond, the third installment in the new franchise, completely embodies the original series in tone and heart, and stands as the best effort in this reboot series to date.
The 2009 Star Trek introduced those iconic sci-fi characters – Kirk (Chris Pine), Spock (Zachary Quinto), Bones (Karl Urban), Scotty (Simon Pegg), Uhura (Zoe Saldana), Chekov (Anton Yelchin) and Sulu (John Cho) – as young upstarts joining Starfleet Command, and then cleverly skewed the timeline to create an alternate universe from the original. The 2013 follow-up, Star Trek Into Darkness, however, seemed to bite off more than it could chew with an overly convoluted plot and unnecessary throwbacks, particularly in the way they brought back Khan.
Now, with Star Trek Beyond, they've worked out the kinks and have delivered a solid film that is, to date, most closely attuned to the beloved 1960s series. Under the guidance of director Justin Lin (who takes over the reins from J.J. Abrams), and armed with a superb script from Simon Pegg (aka Scotty) and Doug Jung, this is an action-adventure in which the crew of the Enterprise have been on their five-year mission to keep peace in the galaxy but find themselves stranded on a remote planet where they have to stop a bad guy (with a twist to the Star Trek past) from wreaking havoc. Simple and effective.
At the recent press conference, the Enterprise crew talked about making Star Trek Beyond, the tragic loss of their comrade Anton Yelchin, and more. Here are 10 things we took away from the press day [Warning: There are some spoilers ahead]: Continue reading 'How to Trek: 10 Things to Know About 'Star Trek Beyond''