By Robert Sims, Special to TheMovieKit.com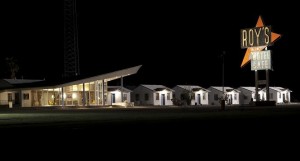 Step 1: Pack your bags for a stay at the Motel California. Director Chad Feehan's guilt-driven descent into madness.
Step 2: Prepare to always question whether the events unfolding before your eyes are real or imagined. Paul (Josh Stewart) certainly has no idea whether he's awake, dreaming or worse when he and fiancée Adrienne (Jamie-Lynn Sigler) check into a rundown motel and odd things begin to happen. When a woman from his past appears out of nowhere, Paul comes to believe he's paying the price for participating in a horrible event that changed many lives. And Adrienne's fate soon hinges on Paul's willingness to confess his sins.
Step 3: Put The Sopranos in the back of your mind. Sigler seizes her opportunity to show there's more to her than The Sopranos by delivering Wake's liveliest and least-affected performance as the fiancée Paul desperately tries to protect. You have to admire her efforts to make something out of an unwritten role. As the perpetually perturbed Paul, though, Stewart comes across as sleepy than rather worn down by the burden of his guilt. Everyone else—from the nervous motel manager to his slutty wife to the lunatic who tells Paul he's "got the Devil" in him—gets so caught up in the hysteria surrounding Paul that their over-the-top theatrics prove distracting to the point of annoyance.
Step 4: Accept that Feehan's script is better than his direction. He knows how to concoct a nightmarish scenario that's filled with plenty of strange characters and creepy moments. Unfortunately, he allows the slow-paced Wake to plod its inevitable conclusion. Then again, it's not too hard to figure out what's going on with Paul, so you can doze off for an hour or so and wake up in time to watch Feehan push Paul's panic button one last time.
Level of difficulty in watching Wake: If you know your Twilight Zone, you know where Wake's heading. Still, Feehan shows such promise as a writer that you're left wondering how much better Wake would have been had an experienced director and a better cast gotten their hands on his script.