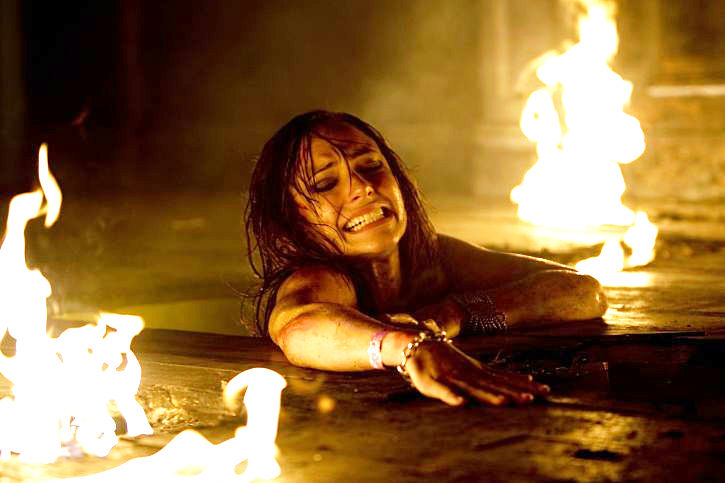 Step 1: Retitled this to I Know What You Did at That Sorority Party with That Tire Iron.
Step 2: Refer to Step 1. Sorority Row is just another slasher rehash in which a group of pretty sorority girls take a prank too far, resulting in the tire-iron-in-the-chest death of one of their sisters. They panic, drop the body in a mine shaft and try to move on with their lives – except eight months later, just when they are about to graduate, a killer in a graduation gown comes back to mutilate the girls involved using a souped-up SUPER tire iron. Sigh. The twist on who the killer is doesn't even make a whole lot of sense (Hint: dead girls don't come back). Seriously, in this day and age of horror flicks, you need to get a little more creative to keep the audiences' attention.
Step 3: Create an excuse to cast a bunch of luscious up-and-coming actresses and watch them get slashed. That's about the only reason why they'd make Sorority Row. There's Step Up 2's breakout Briana Evigan, Samurai Girl's Jamie Chung, The Hills Audrina Patridge and Rumer Willis, daughter of famous parents, who all do their best to look good in sexy lingerie while fighting for their lives. Plus, Carrie Fisher makes an appearance as the sorority's house mother. WTF?
Step 4: Add one good line: "I don't have time for 'catch me, rape me'."
Level of difficulty in watching Sorority Row: Moderately difficult. I know I'm a little late in posting my review, but I'd feel remiss in not giving you my two cents. However, I realize it's not like you needed to be discouraged in seeing this dumb horror flick.