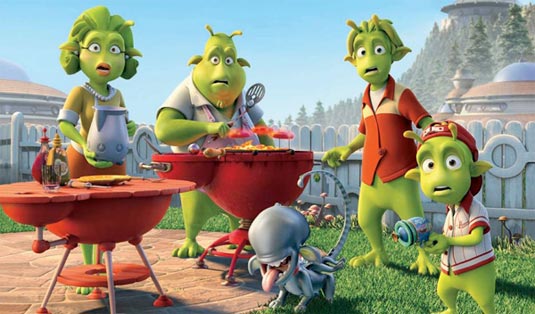 Step 1: Chalk this one up to bad timing. After all the other animated CGI films this year, Planet 51 just feels like a rehash, and not nearly as charming as it wants to be.
Step 2: Add more oomph to the premise. Planet 51 starts off as a reversal of misfortune. An American astronaut, Capt. Charles "Chuck" Baker (Dwayne Johnson), lands on Planet 51 in order to planet a flag but finds it's already inhabited by a population of little green people, who are basically stuck in a '50s Ozzy and Harriet episode and are desperately afraid of being invaded by, well, aliens. It's the AMERICAN that's the alien this time, get it? Chuck manages to escape capture by the army and eventually befriends a local named Lem (Justin Long), who tries to let the rest of his world know Chuck isn't a monster, as well as help Chuck get back to his spaceship so he go home on time. Yeah, it doesn't really get much better after that.
Step 3: More comedy, less silliness. It tries to make all these pop culture references (which I'm getting real tired of), as well as paying homage to every alien-type movie there is, from E.T. to Alien to War of the Worlds and all those bad 1950s sci-fi B-movies. None of it hits home, unfortunately, not like say the already released and hilarious Cloudy with a Chance of Meatballs. And there lies the rub for Planet 51: its vocal cast – including Long, Johnson, Jessica Biel (as Lem's object of desire), Gary Oldman (the army general) and Seann William Scott (Lem's alien-obsessed friend) – can't really measure up to Cloudy's Bill Hader, Anna Faris, Neil Patrick Harris and Andy Samberg in terms of laughs. In fact, Cloudy – and the rest of the more stellar animated competition released this year — casts a big shadow over Planet 51.
Level of difficulty in watching Planet 51: Eh, fair to moderate. Maybe if they had waited a year to release, it could have stood out a little more.