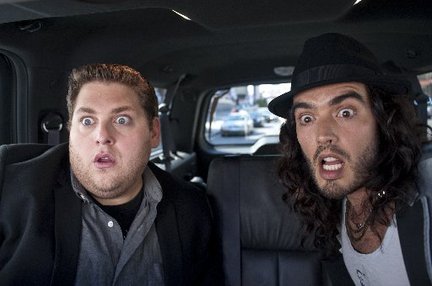 Step 1: Get yourself to see the Greek. It's a raunchy, tasteless, hilarious — and surprisingly poignant (at times) — spin on the washed-up, pampered rock star motif.
Step 2: Follow the formula, but change it up. Russell Brand reprises his Forgetting Sarah Marshall role as British rocker Aldous Snow, who is still outspoken, randy, spoiled, wasted, unruly, yet occasionally talented — and having a career crisis after his last album crashes and burns. Enter Aaron Green (Jonah Hill), a lackey working for Snow's record label, who is also one of his bigger fans. Green convinces his narcissistic boss (Sean Combs) to put on a live concert in L.A. with Snow headlining and is sent off to London to make sure Snow arrives on time. And so the insanity begins …
Step 3: Hire a hilarious cast. What sets Greek apart are Brand and Hill's performances, especially Brand, who actually shows some chops. His Snow is only a caricature in Marshall, but here, the character is more fleshed out. It's obvious Snow has some serious issues, substance abuse and otherwise, but he also feels like he let the love of his life go, he cherishes his son and just wants to please his wayward musician dad. Snow realizes he need to do some soul searching before he can turn a new leaf. And Hill's bookish Green is just the guy to help him do it.
Step 4: Don't stand out, so then you do. I'm now convinced Hill is those comic actors who isn't necessarily in it to be the star attraction, say like Jim Carrey or Adam Sandler; he's a team player, and basically has chemistry with whoever he's starring opposite with, be it Michael Cera, Seth Rogen and now, Russell Brand. Hill should stand the test of time. The other stand out is Combs as the wacky record producer. One wonders how much of Diddy's own producing style is represented, but the one crazy drug scene in Greek, when they are all in Vegas, will probably be revered as a classic. Two words: "Furry walls."
Step 5: Get crazy. Writer/director Nicholas Stoller and producer Jason Segal, the masterminds behind Forgetting Sarah Marshall, mix their particular brand of humor to great success once again. It's not like they are trying to reinvent the wheel with Greek, but they do take a few different spins with the genre, which keeps it fresh. Stoller's skillful hand at getting the right performances certainly helps, plus the montages are the freakin' hilarious, as far as montages go. Sometimes they are staid plot devices, but they totally work with the film.
Level of difficulty in watching Get Him to the Greek: Pretty easy. All in all, Get Him to Greek is a somewhat expected but also surprisingly competent summer comedy.