by Robert Sims, Special to MovieKit.com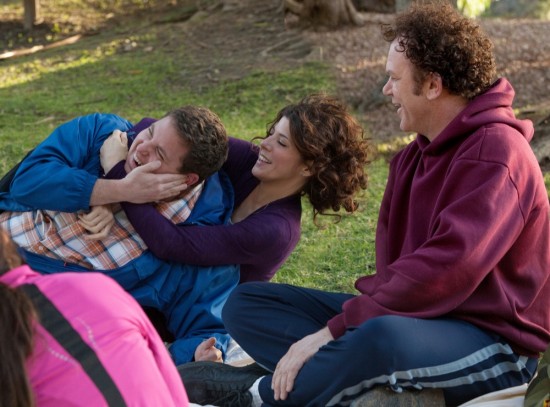 Step 1: Bone up on your Duplass Brothers. Watching The Puffy Chair, Baghead and Humpday will prime you for the first studio offering from mumblecore pioneers Jay and Mark Duplass if you are unfamiliar with their amusing dissections of relationships at their most intimate and awkward.
Step 2: Don't worry if you hate the no-bucks, naturalistic aesthetic of mumblecore. Cyrus may unfold as a typical Duplass Brothers' study in white middle-class American angst, but this time they're working with a decent budget and a cast that features many familiar faces (John C. Reilly, Marisa Tomei, Jonah Hill, and Catherine Keener). You certainly can't accuse the Duplass Brothers of selling out just because they are working with Hollywood money, but do walk away from Cyrus with the sense that the Duplass Brothers are trying to mature as both filmmakers and storytellers. There's nothing silly or inane driving the search for emotional truth, such as a serial killer on the loose or a challenge involving on-camera gay sex.
Step 3: Open your ears and listen. There isn't a wasted word in Cyrus. Every conversation between the divorced Reilly and his new girlfriend, single mom Tomei, represents small but significant strides to make a long and lasting personal connection with another damage soul. While Reilly and Tomei engage in open and honest dialogue, you need to read between the lines whenever her man-childish adult son Hill chimes in. As Cyrus, Hill's not too thrilled at the idea of his mom dating Reilly. While there's nothing inappropriate about Hill's feelings for his mom, it's clear that Tomei never wanted to cut the umbilical cord between mother and son. Pretending to be receptive to Reilly's presence, Hill works overtime to ruin this burgeoning romance out of the fear that he will lose his mother's love. Things turn nasty, allowing the Duplass Brothers to put some delightfully vicious words in the mouths of the men fighting for Tomei's affections.
Step 4: Expect the unexpected from a Superbad boy. The self-deprecating Hill's usually employed by Judd Apatow to generate big laughs, but he rarely receives an opportunity to stretch as an actor. That might change following Cyrus. Hill seems quite comfortable assuming the role of a master manipulator unable to express his feelings in a sincere and constructive way. But Reilly gives as good as he gets. You know that "lost puppy dog" look Reilly wears? It works to his advantage in Cyrus — it helps us to feel great empathy for a man who's desperate love, going to find himself at war with a live-at-home musician suffering from a severe case of arrested development. Throughout all this, though, Tomei maintains her poise and dignity. It's a matter of time before Tomei gets hurt, and it's painful to watch her choose between her son and a man who could possibly come to love.
Level of difficulty in watching Cyrus: The Duplass Brothers demand your undivided attention. Thanks to their sincere way with words and experience with examining distressed relationships, you will gladly give it to them.