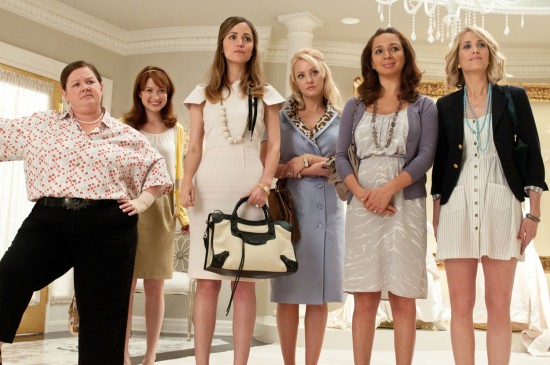 Step 1: Begin by chuckling. Bridesmaids might not be the best comedy ever, but there are some individual scenes that will leave you in a heap on the floor.
Step 2: Then starting giggling. We all know how excruciatingly funny SNL alum Kristen Wiig can be, but up to this point, she's only had well-placed supporting roles in feature films. Now with Bridesmaids she makes her first foray into leading lady status — and god bless her, she does it the right way, by surrounding herself with equally funny people she has worked with before, including her old SNL pal Maya Rudolph. Wiig plays Annie, a down-on-her-luck 30-something who suddenly finds herself maid of honor for childhood best friend Lillian (Rudolph). Annie is game — at first. Then she meets the other bridesmaids: the co-worker (Ellie Kemper), the cousin (Wendi McLendon-Covey), the soon-to-be sister-in-law (Melissa McCarthy) — and Helen (Rose Byrne), the Ms. Perfect wife of Lillian's fiance's boss, who regularly outshines, outpays, outmaneuvers and basically outdoes Annie in every way. Of course, this drives Annie mental, and she quietly starts having a nervous breakdown. It's pretty damn funny to watch.
Step 3: Really get a good laugh going. Wiig handles her starring role outrageousness with aplomb, even if it rises a little bit too over the top. But then again she co-wrote Bridesmaids with another old friend, Annie Mumolo, so the action – and the laughs – spring from a deep friendship. We already know about Wiig and Rudolph, but Wiig also did sketch comedy at the L.A. Groundlings Theater with Mumolo, McCarthy (Mike and Molly) and McLendon-Covey (Reno 911). There's a simple ease to the comedy in Bridesmaids because these ladies have all known each other for years – and most likely peed themselves silly through most of it. Even Kemper (The Office) has major improv experience and fits right in. The only novice to the group is Aussie actress Byrne (Damages), who manages to hold her own quiet nicely. Besides, she isn't supposed to be the funniest woman in the room. No, those honors would have to go to McCarthy, who literally grabs every single scene she is in and wrestles it to the floor – and for once, what she says in the trailer is only the tip of the hilarious iceberg.
Step 4: Start snorting. As for the male counterparts in the film, they do take a back seat. Still, Jon Hamm is fairly priceless as Annie's vain f**k buddy (one of the stranger sex scenes I've even seen), while Irish actor Chris O'Dowd is a sweet antithesis, a down-to-earth cop who falls for Annie and tries to help her out of her pity party. The biggest male influence, however, would have to be producer Judd Apatow, who gave Wiig one of her first standout feature film gigs in Knocked Up. He didn't direct Bridesmaids (that would be TV director and longtime Apatow friend Paul Feig), but Apatow's touches are everywhere.
Step 5: Fall about the place. So, why isn't Bridesmaids the funniest comedy of all time? First, that's a tall order to fill. Second, there are moments when the story starts to sag, especially when Annie just keeps hitting the rock UNDER rock bottom. For me, it's a bit tiresome. But as I write this and remember those scenes that made me weep with laughter (like the one where they all have food poisoning, trying on bridesmaids dresses), everything else fades away. Seriously, I haven't laughed that hard at comedy in a long time. And I cannot WAIT for the DVD! I'm hoping they have a blooper sequence to end them all.