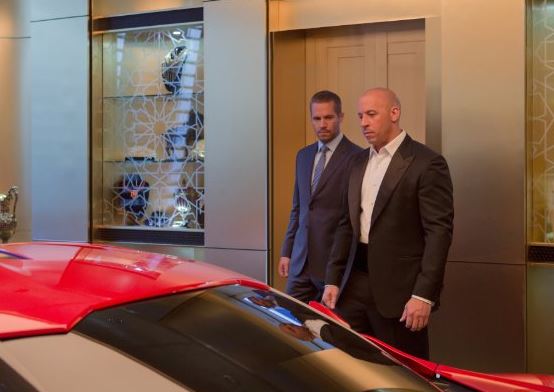 Step 1: Rev your engines… and grab the tissues. Furious 7 delivers exactly the right kind of thrilling outrageousness you've come to expect from this high-octane franchise, but this time there's an added dramatic resonance as the film poignantly pays tribute to the late Paul Walker.
Step 2: *Sniff*. The first time the actor appears on screen as his F&F alter ego Brian O'Connor, driving his young son to pre-school, you feel an immediate pang. The irony of how Walker died in a real-life fiery car crash in 2013 hits you all over again, and you give a long sigh on how senselessly tragic it was. Then, the Furious 7 story begins to unfold and you are thankfully swept up in all its glorious over-the-top action… at least for the time being.
Step 3: Seek revenge. As it stands, villain Deckhard Shaw (Jason Statham), who we met at the end of Fast & Furious 6, right after he killed Han (Sung Kang), is on a revenge mission to wipe out all those responsible for nearly killing his brother (Luke Evans, the baddie in F&F 6). This former black ops psycho will stop at nothing, first targeting federal agent badass Hobbs (Dwayne Johnson) and then hitting too close to home for Dom (Vin Diesel). This pisses off the muscle-car aficionado BIG time. Now it becomes a race to see who can get who first, and with the assistance of his dwindling crew – Brian, Tej (Ludacris), Roman (Tyrese Gibson), and his love, Letty (Michelle Rodriguez) – Dom teams up with another CIA-type operative (Kurt Russell) to retrieve a high-tech, super-cool global tracking device called "God's Eye" that will help them locate Shaw… and save the world from evil mercenaries eager to get their hands on it. But first, they have to rescue the tech-head hacker responsible for creating it. Yes, that means they have to parachute their souped-up cars out of an airplane, land perfectly on a treacherous mountain road and… well, you know how it goes.
Step 4: Buckle in. The unbelievable car stunts in Furious 7 are just as spectacular as always, especially in the capable hands of horror director James Wan. It's his first real action movie after helming scare-fests like Saw and The Conjuring, and he keeps everything revved up. Trotting around the globe, including the ever-popular Dubai, the gang proves the statement "cars don't fly" just isn't true. It's almost like a Bond movie on how they are going to top the last flamboyant stunt… and they do with great effect. Don't forget some of the classic hand-to-hand combat scenes, too. They are becoming just as important in the film series as the cars. Statham has some awesome knockdown drag outs with the Rock and Diesel, while Girlfight-er Rodiguez, after kicking MMA star Gina Carano's ass in the last F&F movie, fights that other MMA champ, Ronda Rousey. Oh yeah, it's ON!
Step 5: Try not to sob. There are also the little touches that have kept this franchise alive. You forgive most of the eye-rolling dialogue and suspend your disbelief because you are firmly invested in these characters. Ever since the re-emergence of the cast as a whole in Fast Five, the camaraderie has only improved, from the ribbing between Tej and Roman, to the love stories between Brian and Mia (Jordana Brewster) and Dom and Letty, to all the brotherly affection because they are all truly "family." The Furious 7 action culminates in Los Angeles, which seems appropriate since this is where it all started, but this is also where you start to tear up. You know it's coming, the time when we really have to say goodbye to Walker for good, and while not giving away how it ends exactly, just know there will be very few dry eyes in the house. Diesel and the film's moving and brilliant tribute will slay you.
Step 6: Leave 'em wanting more. The ending of F7 definitely sets up a sequel. Diesel recently hinted about F8, saying Kurt Russell's role was always intended to be bigger in the next movie and that it may be set in New York. Rumor also has it Walker's younger lookalike brother, Cody Walker, might step in in a newly conceived role, but does it seem too opportunistic to go on without Paul? Probably not. While we'll miss him terribly, if they do it right, the franchise has enough sublime engine power to keep us thoroughly entertained for years to come.