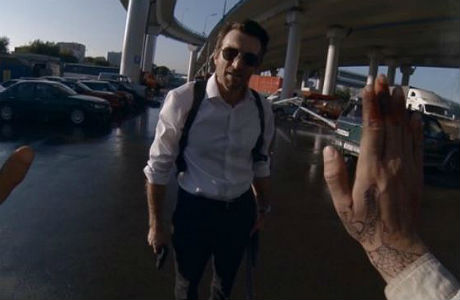 It was only a matter of time before they made an entire movie with a Go-Pro type camera — and boy, what a wild ride Hardcore Henry is. Told from the first-person perspective, we meet Henry, a possible former special ops guy who wakes up to discover most of his body has been reconstructed with hi-tech machinery, including his heart being run on battery. Henry also doesn't remember anything at all. When he opens his eyes, he sees a beautiful woman, a scientist (Haley Bennett), who tells him about his condition — and also that she's his wife.
Then it all goes to hell in fairly quick fashion. The bad guys break into the facility, take Henry's "wife," but Henry escapes and then spends the rest of the movie killing as many men as he possibly can, all with the help of Jimmy (Sharlto Copely), a chameleon of sorts with seemingly endless resources.
Hardcore Henry runs you ragged as one of the most visceral and violent movies to come along in awhile, but it's just entertaining as hell. I discuss in the ScreenPicks.com movie review podcast below… check it out!