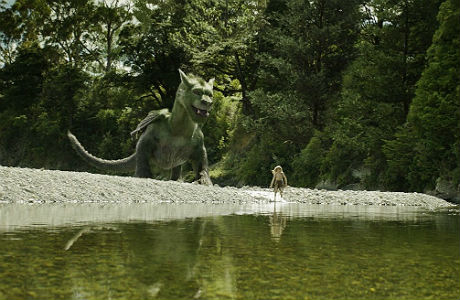 As a re-imagining of the 1977 animated Disney classic, this Pete's Dragon uses all the great CGI techniques to bring the story of Pete and his friendly, furry dragon, Elliott, to life.
As the official synopsis reads, "For years, old wood carver Mr. Meacham (Robert Redford) has delighted local children with his tales of the fierce dragon that resides deep in the woods of the Pacific Northwest. To his daughter, Grace (Bryce Dallas Howard), who works as a forest ranger, these stories are little more than tall tales… until she meets Pete (Oakes Fegley). Pete is a mysterious 10-year-old with no family and no home who claims to live in the woods with a giant, green dragon named Elliot. And from Pete's descriptions, Elliot seems remarkably similar to the dragon from Mr. Meacham's stories. With the help of Natalie (Oona Laurence), an 11-year-old girl whose father Jack (Wes Bentley) owns the local lumber mill, Grace sets out to determine where Pete came from, where he belongs, and the truth about this dragon."
Watch the trailer!
At a recent presentation for Pete's Dragon, ScreenPicks was able to view four clips from the movie, which were each fantastic in showing us just enough of the story to make us want more. Redford's Mr. Meacham has a twinkle in his eye when he is telling stories about a "dragon" in the forest, while Howard as Grace (who looks a lot like Redford, so good casting) is kind and patient with her father. But when she and Meacham see Elliott for the time, tears will come to your eyes.
As for Elliott, he is a soft and fuzzy dragon, with a chipped tooth and a sweet and shy demeanor. Make no mistake, he is indeed a dragon, with scaly wings, the ability to fly and (we think) the capability of breathing fire, but judging from the clips, Pete's best friend will most likely pull on your heartstrings more than anything else.
Along with the clips, we sat in on a Q&A with director David Lowery and star Howard, who talked about the beauty of this story, how Elliott was designed and on finding the perfect Pete.
Struggling a bit to climb up the stairs to the stage at the glorious El Capitan theaters in Hollywood, Howard quipped, "I have unreasonable heels on now… Guess that's my gold standard now," poking fun at all the hullabaloo made about her character wearing heels while being chased by dinosaurs in Jurassic World.
On seeing clips for the first time, Howard marveled, "What's most exciting to me is to see Elliott come alive and be everything we wanted him to be."
Lowery concurred, "I love this dude to death. One of the things we wanted to do with this film was sell this idea of friendship between a child and a creature like that. It really comes down to your favorite pet as a child, that really close bond you can have with an animal. We wanted to hit home with the heart of that, except with an animal that's 20 times larger than a household pet."
The director also really wanted Elliott to be furry. "It's because I love my cats. I was probably petting my cat and saying, 'I wish this guy was 20 feet tall.' He really is based on my cats. They have their own Instagram account, 2OrangeGuys, so you can follow them."
Howard chimed in, "He like really loves his cats."
The chipped tooth? Lowery laughed, "He ate some rocks. Look, if you put in a Game of Thrones dragon, he's going to be scaly and cold. He'd be cool, but I want this to be a dragon character you really want to give a hug."
As for creating the environment for Pete and Elliott, Lowery wanted to make everything around the CGI dragon to be real. Pete's Dragon was shot in New Zealand, standing in for the Pacific Northwest, and maybe a little more magical, which New Zealand has. "We would get up everday at 4AM and drive two hours to shoot in the middle of the forest, these remote Redwood groves" said the director. "The most beautiful places are usually the hardest to get to, but it was important to the sense of reality."
On finding the perfect Pete, Lowery said they did a nationwide search. Lowery wanted the kid playing the part to be a little "unvarnished" and maybe not as trained. Howard laughingly interjected, "Then you never would have hired me at 10." It was one of those classic stories – Oakes Fegley walked in the room, and they all knew.
Lowery explained he told Oakes to take everything in the room and make a chair. "He just had the quality. He wasn't showing off or trying to impress me, he was just instantly, 'Okay, I'm going to do that.' He had the sensitivity but resislence that you believe he could survive in the conditions his character survived in."
Howard added she'd sometimes ask Oakes for direction, and he'd know what to say. "He reminded me of my dad [director Ron Howard] in a lot of ways. Oakes is self aware but he's not aware of the extent of his talent. He's just really relaxed about it."
On top of his incredible acting talent, both Howard and Lowery feel like Fegley might be a director someday because the kid really understood a movie set. The two also praised the "Meryl Streep" of the set, Oona Laurence, who simply amazed them with her ability to come in and nail any scene she needed to.
Howard knew when she read the script, it wasn't a straight up remake of the 1977 movie. "That was an immediate yes for me. I love [the first] Pete's Dragon. I have the board book that I read to my kids constantly. I didn't want it to be a copycat. The themes in the first one were what made it charming… of friendship with an imaginary friend when you have no family. And then, voila, it's not such an imaginary friend. So, when I heard it wasn't just a remake, I said, yes, I'd love to be a part of that."
The actress added, "Also because, also I am a parent, I want there to be beautiful films out there that have innocence and are timeless and have really beautiful values without being didactic. Super proud to be a part of this."
Disney's Pete's Dragon opens in theaters August 12.