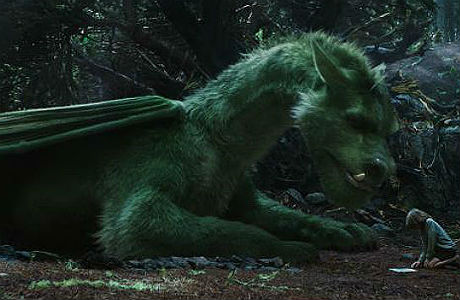 Disney is just on a roll. Period. Their latest effort transforming one of their old-school animated films into a live-action gem is Pete's Dragon – and it's a poignant family film for the ages.
Set somewhere in the Pacific Northwest (but actually shot in the lush forests of New Zealand), Pete's Dragon tells the simple story of Pete (Oakes Fegley), who finds himself stranded in the forest at very young age but finds a big, soft, green furry dragon named Elliott, and the two live peacefully together deep in the forest and away from civilization.
Until, that is, a kindly park ranger, Grace (Bryce Dallas Howard), discovers Pete and takes him into the local town. Pete doesn't necessarily want to be "rescued," insisting he has been well taken care of by his friend, Elliott. Of course, none of the adults believe him, except maybe Grace's dad, Meacham (Robert Redford), who claims he, too, has seen Elliott a long time ago. Only the daughter, Natalie (Oona Laurence), of a local lumberman, Jack (Wes Bentley), believes Pete's story. Needless to say, they all end up meeting the sweet dragon, and while some are fearful, it's Pete and Elliott's true bond and friendship that prevails and wins them, and us, over.
ScreenPicks attended the press day with the cast and director David Lowery and found out these 8 things about Pete's Dragon that makes it so special and magical.
On playing the old-timer Meacham, who likes to tell the children his "scary" story about Elliott:
Robert Redford: David allowed me to enter the character and have my own way with him, how he tells the story and how he sees the world. So that brought me even further into it, to design my character. He's a wood carver, and he seems to be a man who's totally alone in his very small sphere of operating, in this dark room. He's carving wood and suddenly he hears something outside, and it's children, so he bursts out. I love that moment, being able to scare them, and then pull them together to tell them a story. He tells a story that no one really believes, but they like hearing it anyway. And then, they find out guess what? It's true. I love that angle on it. I thought it was fun.
On Redford saving a horse during the production (Horse Whisperer to the end):
Redford: We were driving to the location, it was a long haul, a real drag. We came by this one area, and there was this horse tied up to this fence, and it looked like it was wasting away. Came by the next day, same thing. And I thought, "Someone is not attending to this horse. It's being left to die." So I got out of the car, undid the horse, gave him something to eat. I hope he survived.
On being the motherly type:
Bryce Dallas Howard: I was so annoying. [Oakes] is a very agile boy and climbs way to high. The thing that was my primary focus was I didn't want to over-complicate things because I'm an adult character. When I was a kid watching children's films, and even now when I watch a scene between two adults, I'm like, "Come on, let's get to the dragon." It was sort of this balance of wanting to be of service to the primary story about a boy and his dragon, but also I'm an actor and I wanted to figure my character out. I was twisting myself up, and my husband said something that was really helpful, which was like, "Bryce. I think it's simple; I think you speak to Pete like you talk to our kids." The moment that he said that, it was such an obvious thing. The moment I was doing a scene with Oakes in that frame of mind, I was like, "Oh! She's his mother!" It was really my first time playing a mother and for me, is really about becoming this mother. She is a complete character but something else is fulfilled within this story.
On comparing Pete's Dragon to Jurassic World:
Howard: They are both are intimate ensemble pieces in a way and yet there's this heavy visual effects component to both of those worlds. Interesting enough, both [Jurassic World director] Colin [Trevorrow] and David come from a background as independent filmmakers, who, in the scheme of things, is still relatively early in their careers. Both sets felt like we were making independent movies. For Pete's Dragon, I kept turning to the Disney exec and asking, "Are you sure we're making a studio movie?" It felt so personal, for David, as the filmmaker. Disney was really supporting this. I love that we're not all in primary colors. There was a mature, sophisticated sensibility David lent to this story.
On being proud of Elliott, the dragon:
David Lowery: I feel he's indelible. I love him. There was zero debate on making him scaly. We had an early meeting with the studio, and I said, "Here's what the story should be yada yada yada… oh, and the dragon needs to be furry." And they said cool. It's funny, when the first images came out in the press, there were a lot of reactions. "Furry dragon, what's going on here?!" So I didn't expect that at all. I didn't think dragons were defined by their scales. I'm glad I've introduced a new element into the dragon lore.
On shooting in gorgeous New Zealand:
Oona Laurence: We shot in a lot of cool places. I remember we were shooting on top of a mountain and it was really cold up there. So we were playing with little icicles. There was just so much fun things to do. Stunts and stuff – he [Fegley] obviously did more than me – it was just really fun. We were totally safe, but it was like barely work to us. I was falling out of a tree, but really I was in a harness and it was dropping me. It was really, really fun – like a rollercoaster ride.
On how Oakes Fegley nabbed the role of Pete:
Fegley: There were many, many kids [who auditioned]. [Director David Lowery had Oakes build something in his audition] We were building traps. So me and David, at the chemistry test, I was building pipe traps – they're basically like metal pipes. One time I built this trap, it just collapsed. David and I were just laughing. I was like, 'There's no way I'm gonna get this.' But then I got the call and I was very, very excited. It was a dream come true.
On returning to childhood and the magic of old-fashioned storytelling:
Redford: There was the idea of going back to my own childhood, which was based on storytelling. I grew up very near here in a very lower working class neighborhood where there's not much to do, so storytelling became something to keep you alive. Storytelling was a way to see the world bigger than the one you were looking at – and that had great appeal for me. I think since that was part of my upbringing, it became part of me, and I wanted to pass it along to my kids and my grandkids. I thought, 'If you could ever do a project that really has magic in it, and justifiable magic, you should do it.' This was it.