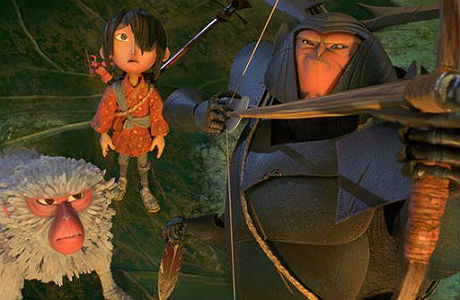 Laika Animation's stop-motion technique is truly something to behold. With films like Coraline, ParaNorman and The Boxtrolls, you are amazed by the amount of effort it takes to make the movies, just as you instantly forget it as you get wrapped up in the storytelling.
Their latest efffort, Kubo and the Two Strings is no different, but is also the studio's most ambitious and beautiful film to date, a lush feast for the eyes coupled with a story rich with culture. Laika's CEO, Travis Knight, makes his directorial debut with the film, and it's easy to see the passion he and his Laika team have poured into it.
Kubo and the Two Strings tells the story of a young Japanese boy named Kubo (Game of Thrones' Art Parkinson), whose capacity for love and imagination has no bounds. He cares for his traumatized mother in a cave above the sea, but in the day, he goes to the local village to tell stories about his late father, a great warrior named Hounsou — stories his mother has told him. But it's how Kubo tells these tales that keeps the village folk enthralled, using his magical musical instrument and origami to bring the characters to life.
Kubo, however, is soon confronted with his mysterious past, one his mother has tried to keep him safe from. Once unleashed, Kubo is forced to go on a quest, at his mother's behest, to find his father's magical armor in order to protect him and defeat a vengeful spirit wanting to take Kubo away forever. Along the way, Kubo finds quest companions, Monkey (Charlize Theron) and Beetle (Matthew McConaughey), who each protect and serve Kubo is strange ways.
Here are six things we learned from Knight, Theron and McConaughey about the magic of Kubo and the Two Strings – and the studio that created it.
On the power of Laika:
Travis Knight: We started Laika about 10 years ago and we had a pretty simple mandate: To make movies that matter, to tell stories that were rich and provocative, that were thematically challenging. To have something meaningful to say about what it means to be human. This story spoke to me because as a kid, I always like big, epic fantasies and this is what this story is.
Kubo really was a seismic shift for us because we've never taken on anything of that scale. But if you come to the studio, you'll see, it's just a big warehouse. Our sets are a slab of wood that's been gussied up to look like a place. So the idea to make a stop-motion David Lean film, with big majestic vistas on a table top, is kind of absurd on its face, but we are excited by the challenge, and I think that's a testament to creativity and passion of the artist that they will be able to pull it off. As for what's coming down the pike, our next one is the same way. We love to tell new stories, which is kind of a rarity these days. We try to keep the flag flying.
On Knight's fascination with Japanese culture:
Knight: I was around 8-years old, I went to Japan, for the first time. I was a kid that grew up in Portland, Oregon, so being in Japan was unlike anything else I had ever experienced. It was a real revelation for me. It's a kind of art that's lived with me, for my entire life. So, this film really ticked those boxes for me.
On what the cast thought of the film after watching it for the first time:
Charlize Theron: I absolutely love it, and feel terrible I haven't had a moment to talk to Travis about this, so this is my love song to you as well. The first moment I met Travis to discuss this film, there was something very clear what he was trying to set out to do. I think it was finding a way to tell a story through great characters but also through a real sense of world. It was very hard for Travis to talk about character without talking about the world. And to see the film finally and see both of those things, so beautifully and seamlessly done, I was just so inspired by it. Really. I have so much admiration for the time and the patience and the passion that has to go into that. We as actors step in and the embodiment is in board strokes, and with this is was such a small brush, a fine brush. I sit here today in complete awe of what that is.
On top of all of that, the story is incredibly moving, really layered and conflicted and covers something things I think we are sometimes afraid to address with children. It's just so true to what Laika stands for and what their films have represented. In the sense that, there really isn't anything thematically that you can't explore through children's eyes.
Matthew McConaughey: Laika has never really made material that pandered to kids, that it's just a kids movie. They have been adult themes, but things that every child can understand and digest. I got to watch [Kubo] with my wife and two eldest kids (7 and 5). My wife cried about nine times, but there was also laughter. The kids actually had tough questions afterwards. They enjoyed the ride, but they asked. They were scared at the right times. They saw someone overcome, and we talked about that and equated things like that to their own life. You don't get that with other animated films. I thought it was a very impressive piece of work.
On being fascinated by the process:
Theron: I asked a LOT of questions. I was so naive to the process and that's what was so exciting. I've been doing this for 20 years or more, the idea of doing something I barely knew anything about was refreshing. Travis was very encouraging, but I was worried because I didn't want to f this up. I think its a testament to why they are so successful to the storytelling. It's so grounded and real. Travis was constantly encouraging us to find the truth during the process. More than anything, I was working from Travis' brain, my fountain of information. I was getting my inspiration of what to paint on the canvas from him.
On animated films they loved as a kid:
Theron: The first thing I can think of were those Looney Tunes. Television only came to South Africa in '75 or '76, so we were a little late to the game. Also, we only had about two hours of it a night, so it was very, very special… As a kid, I could watch them over and over and over and over and over again, and not get bored. I would laugh at the same jokes and discover something new, at the same time. They still play them on the collective kid channels on cable, and every time I see them when my child is looking for something to watch, I secretly pop it on because I want to give him a little bit of what I had. He loves it, but what he has access to now is just so enormous. But for me, as a kid, that was my first experience with animation.
McConaughey: I didn't watch much media growing up, but I do remember seeing Land of the Lost for the first time, on a Saturday morning. I remember the opening credits when they'd go off the end of the waterfall and into the world they end up in. The other one would be The Incredible Hulk with Lou Ferrigno. You knew he was going to get big and green, twice in the hour, at 7:22pm and about 7:41pm. And if there was an oxygen tank around, which there usually happened to magically be, he was going to throw it in slow motion and it was going to be awesome.
On what they hope the kids will walk away with after seeing Kubo:
McConaughey: For me, with children, I was interested in what lessons they would take from it. Charlize and I have said for the last five hours, we haven't made a lot of movies that our kids can watch. So it's about teaching kids to have courage and overcome your fears. One of the themes if you've got to fight and write the third act of your own story. Get your happy ending. It may not be exactly what you thought it would be but if you get to the nut of it, the truth of it, that's a lot happier than not finishing the story at all. You gotta fight for your third act.
Kubo and the Two Strings opens in theaters this Friday!