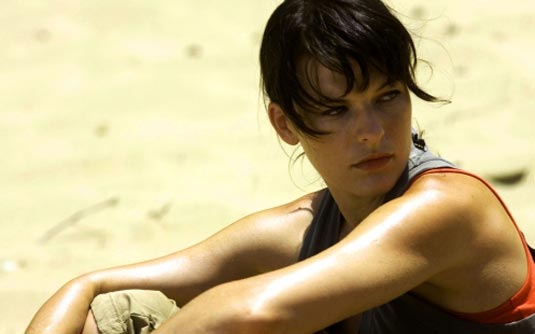 Step 1: Prepare to be pleasantly surprised by A Perfect Getaway, a compact, no frills thriller that does it's job nicely.
Step 2: Realize there is no such thing as a "perfect" vacation; something always goes wrong one way or another. This is especially true for newlyweds Cliff (Steve Zahn) and Cydney (Milla Jovovich), honeymooning in Hawaii. They THINK they've found the most idyllic beach, miles from civilization and accessed only by hiking or boating in, but of course on the hiking trail to the beach, they find themselves in a bit of trouble. First, they hear about a brutal double murder in Honolulu, with the police searching for the suspects, a man and woman. Then they meet Nick (Timothy Olyphant) and Gina (Kiele Sanchez) on the trail, a nice enough couple if it weren't for their odd behavior (he's a former Iraq War Special Ops, and she can skin a goat in no time flat), and end up trekking the rest of the way as a foursome. Not to mention they think they are also being followed by ANOTHER seemingly menacing couple, tattoos and all (Chris Hemsworth and Marley Shelton). Will the real murdering couple please stand up?
Step 3: Keep them guessing. You might be able to figure out the twist early on (I suspected), but the actors are still engaging. Olyphant, in particular, does a great job as the eccentric Nick, who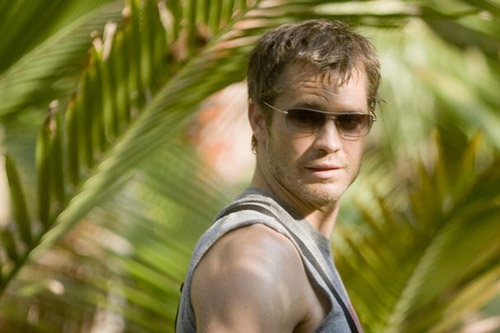 weaves harrowing tales of his time in the military – including the fact he has survived through not one, but two near-death experiences. And as his girlfriend Gina, Sanchez has some steamy chemistry with Olyphant,  while also being one tough cookie you don't want to mess with.  Jovovich and Zahn play the cookie-cutter honeymooners with aplomb, but when things start to get really hairy, they show they've got some mettle as well.
Step 4: Book a trip to Hawaii pronto. With all this gorgeous scenery, you just yearn for lush, tropical forests and beautiful ocean vistas. Just make sure you don't hike on that same trail (it's apparently in Kauai).  Rent a boat instead.
Level of difficulty in watching A Perfect Getaway: Easy as a sunset walk along a Hawaiian beach – or more a sunset run, trying to escape the killers.