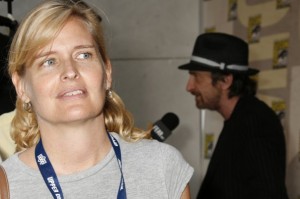 I'm a Florida native. I was born, as most people are, and spent my first 11 years in Tampa. With detours through Indiana and Washington D.C., I landed in Southern California, and eventually was admitted to UCLA as the result of a computer glitch (not really), where I earned a B.A. in English.
A long-time movie fanatic, since my mother let me stay up late to watch old movies like The Bad Seed, I turned my passion into a long and varied career in the entertainment business. I've worked as an actress, director of development, story analyst and project/event coordinator. I even liked to do improvisation comedy once in awhile.
For the past 11 years, I've been an entertainment journalist and film critic, loving every second of it. I've written for Hollywood.com, Fandango and AwardsPick.com. But my crowning jewel is creating my blog, TheMovieKit.com, bringing to my loyal readers movie reviews, interviews, casting stories, trailers, box office analysis, award show coverage and all my many thoughts about the film industry, past and present. I hope you will enjoy.
What people might not know: I was dangerously close to becoming a Mormon
Favorite Movies of All-Time: Jaws, Godfather Part I & II, To Kill a Mockingbird, Sense and Sensibility, The Bad Seed, Singin' in the Rain, The Matrix, Terminator 2 … and the list goes on.