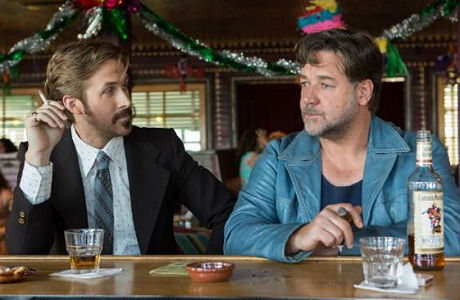 Step 1: Have fun. From the mind of writer/director Shane Black, The Nice Guys is just pure wackiness all the way through – a straight-up crime mystery filled with hilarious antics and plenty of violence. A perfect addition to the summer movie roster.
Step 2: Set it in Los Angeles in 1977. The premise revolves around Jackson Healy (Russell Crowe), a former cop who now works independently as the guy you hire to rough someone up. When he takes a job from Amelia (Margaret Qualley), a young woman who wants him to stop some guys following her, Jackson meets (and beats up) Holland March (Ryan Gosling). March is a down-on-his-luck private detective dealing with some personal issues like the loss of his wife and trying to take care of his precocious 13-year-old daughter, Holly (Angourie Rice). But a turn of events forces Holland and Jackson to work together to try to find a now-missing Amelia and solve the mystery involving Amelia's porn flick and why everyone associated with it are being killed.
Step 3: Find the new onscreen duo. Evident from all the trailers and promotional appearances (like the hilarious videos of the actors seeking couples therapy), Ryan Gosling and Russell Crowe together are what sell this movie. Their chemistry is palpable onscreen, and the two simply click in this Shane Black-created milieu. Although he did do a few early on his native Australia, Crowe is definitely not who you think of when you think comedy. And to be fair, he's not the balls-out comedic performer in The Nice Guys, either, but he is a perfect straight man, an always underrated component of a great comedic onscreen duo. It's the reactions that count, and Crowe nails it. So yes, it's Gosling who shines as the funny guy, which isn't all that surprising since he's done films like Crazy, Stupid, Love. and The Big Short. What is surprising, however, is how well Gosling handles the physical comedy in Nice Guys. He gets beat up, shot at and pratfalls like the best of them. Seriously, if they play their cards right, Crowe and Gosling could be another great Abbott and Costello.
Step 4: Oh, and hire a really savvy teenager. As the smart-as-a-whip Holly, Rice very nearly steals the show from her two co-stars. She shows an uncanny comedic sense while also making it seem entirely plausible that Holly would be just as good at being a private eye. Also, Holly finds herself in some situations no normal 13-year-old would be in but is, naturally, the level-headed one who tries to set her falling-apart-at-the-seams father on the right path. The "wise kid raising the parent" isn't a new concept, but Rice does a nice job keeping it fresh. Look out for this young Australian actress – she's going places.
Step 5: Be thankful L.A. doesn't look like that anymore. The Nice Guys locale is a key player in the film, showing that gritty, smog-filled side of Los Angeles in the 1970s. From the dilapidated Hollywood Sign, to the crowded freeways, to the growing porn industry, director Shane Black really paints a nice thin, dirty feel to the whole thing, which completely complements the action. But there is also some beauty to the film, a clear love letter to L.A. and the promise of how gorgeous the City of Angels will become – once all the smog is cleared out.
Step 6: Get Shane Black. The once wunderkid, whose sale of his first script, Lethal Weapon, is one of those legendary Hollywood stories. The classic 1987 buddy-cop script was one of the first to benefit from a "bidding-war" situation between studios, creating a heyday for screenwriters in the '80s and '90s. While it's much different now with how movie scripts are sold, Black has proven he was not a one-hit wonder, especially with his directorial debut Kiss Kiss Bang Bang in 2005. The Nice Guys follows along the same lines, mixing genres and creating something that feels familiar but is still unique.
There are some plot holes in the film, mostly revolving around Kim Basinger's role as Amelia's mother (who definitely needed more screen time) and her job as the "head of the justice department," investigating the auto industry and the smog emission problem that plagued Los Angeles in the '70s, but you're willing to overlook it because the characterizations and the dialogue are all so spot-on. This crime comedy milieu is really Black's forte, and let's hope he keeps making them.