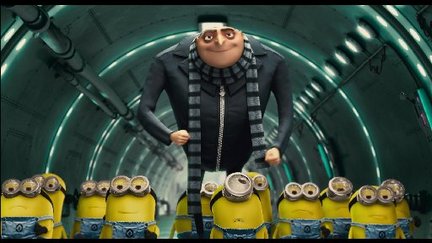 Step 1. Don't mess with a good thing. Despicable Me follows a tried and true formula of good story + decent animation = entertaining family film. But it isn't quite up to Pixar quality.
Step 2. Realize it can't all be Pixar. I've said it before and will most likely say it again: Pixar sets a high bar when it comes to animated films. In essence, every other animated film (yes, I count the DreamWorks ones, too) seems to pale, even in the smallest degrees, in comparison. Thankfully, Despicable Me falls in the smallest degree category, meaning it does hold up better well under the Pixar microscope.
Step 3. Call your hero Gru. The story revolves around a wannabe bad guy named Gru (Steve Carell), who, up to this point, hasn't really achieved truly evil mastermind status. I mean, the best he's done is to steal the Statue of Liberty… the small one from Las Vegas. He tries, though, exciting his army of minions (little yellow creatures that look like pill capsules with goggles) with dastardly plans and inventing new – and mostly useless – devices to carry out such plans. But when a young whipper snapper evil genius named Vector (Jason Segel) starts beating Gru to the punch, Gru decides he'll do the impossible – steal the Moon – to outshine his competitor. But Gru actually has some redeeming qualities, which come out when he adopts three little girls from the local orphanage as a way to get into Vector's lair and unexpectedly becomes attached to them. Aw, turns out the hunched bald guy is a big softie after all! Does he eventually steal the moon? Or does he chuck his evil plans to make it to the girls' ballet recital? I'm not going to tell; you'll have to see for yourself.
Step 4. Hire a good vocal cast. Carell perfectly voices this loathsome yet sweet character, who is a cross between The Addams Family's Uncle Fester and Boris Karloff. Segel plays Vector as a spoiled brat with too much time on his hands. The three girls, voiced by iCarly's Miranda Cosgrove, Dana Gaier and Elsie Fisher, are adorable, especially Fisher whose line "It's so FLUFFY!" makes me laugh every time I hear it in the trailer. Other supporting voices include Kristen Wiig as the mean orphanage owner; Russell Brand as Gru's mad scientist partner; Will Arnett as the president of the evil mastermind bank (they've got to get their money for their doomsday machines somewhere); and then the minions, who almost always steal the show. I can see those toys all over the floor now.
Level of difficulty in watching Despicable Me: Nil. BUT … If Toy Story 3 had not just come out, I might be singing Despicable Me's highest praises. It's hard for me to watch another film of its ilk and say, "Oh yeah, that's just as good or even better." Sorry, I can't do it. Still, Despicable Me does what it sets out to do, and audiences of all ages should enjoy themselves.