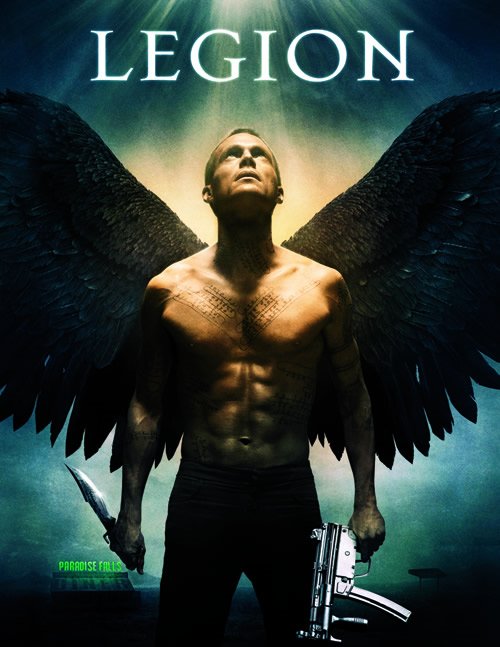 Step 1: End of the world much? As yet ANOTHER twist on the apocalypse, Legion could have done with a lot less pontificating and much more action to mask the muddled plot.
Step 2: First thing first: Don't tick off God. If Legion teaches us humans anything, it's that we should learn to keep the peace as to not incur the wrath of You Know Who. In this scenario, he has grown tired of our "bullshit" and sends his army of warrior angels to wipe out the mass pop – who, by the way, are not the beautiful, white beings we expect but rather more demonic in nature, possessing the people of Earth to do their destructive bidding. There's one archangel, however, who still has faith in mankind, who, in fact, has always had faith in mankind: Michael (Paul Bettany). He defies direct orders and comes down to Earth to protect what's left of the humans, which basically boils down to a small group trapped in a desert diner. Actually, Michael is really only concerned about saving the life of the diner's waitress, Charlie (Adrianne Palicki), eight-months pregnant with a child who "is humanity's only hope." The how and why isn't made very clear. Neither is anything else, for that matter.
Step 3: A solid cast does help – a little. Of the group we come to know, there's the diner owners Bob (Dennis Quaid) and Percy (Charles S. Dutton); Bob's kind-hearted son Jeep (Lucas Black), who has a thing for Charlie and would be willing to take care of her, even if the baby isn't his; a well-heeled suburban couple (Jon Tenney and Kate Walsh), whose car broke down, and their wayward teenage daughter (Willa Holland); plus a guy (Tyrese Gibson) on his way to L.A. These are the ones who stand around jabbering, awaiting the doom and gloom coming their way. And wait. And wait. Bettany thankfully commands the screen AND kicks ass as Michael (and I just sat their wondering if he smelled like chocolate chip cookies, like he did in that other movie about him, Michael). And things definitely take off when his brother and fellow archangel Gabriel (Lost's Kevin Durand), God's most faithful messenger, arrives about three-quarters of the way through to do what Michael refuses to do. At least, there's a good fight scene between the two powerhouses.
Step 4: In this case, less shouldn't necessarily be more. Writer/director Scott Stewart (Priest) obviously wants to build the tension of this impending epic confrontation, but in doing so, sort of misses the point of making a supernatural thriller of this nature. You gotta show stuff blowing up or at least give a glimpse at how the angels are exterminating the human race besides just swarms of flies and the lights going out in L.A. There really needs to be something more exciting than all the cheesy and all-important pages of dialogue the characters have to get through. And where is Lucifer, the fallen archangel? Would have been awesome if he showed up just as Michael and Gabriel started to tussle, don't you think? I swear, I should be writing these things. Maybe someday, when I can get my butt out of the movie theater.
Level of difficulty in watching Legion: Moderate. What's more disturbing is that with Legion and The Book of Eli, someone might be trying to tell us something.