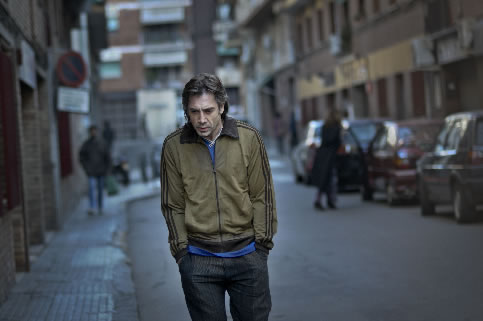 Step 1: Try to find your happy place when watching Biutiful.
Step 2: Don't get me wrong. This Alejandro Gonzalez Inarritu film is a powerful statement on death and redemption, on forgiveness and love, superbly played out by its actors – especially the always magnificent Javier Bardem. And I know sometimes you just have to let the art of a film flow over you while you appreciate the craftsmanship — but man, this was a downer. It keeps you in the depths of despair more than is necessary.
Step 3: Tell the story. Bardem plays a hustler named Uxbal, who does anything he can to support himself and his two young children on the mean streets of Barcelona. His estranged wife Marambra (Maricel Alvarez) is a bi-polar mess whose highs and lows could no longer be tolerated, even though Uxbal still loves her. Uxbal's brother Tito (Eduard Fernandez) is an alcoholic pervert who specializes in human trafficking as a cheap labor source and unfortunately Uxbal is in business with him. Still, Uxbal tries to do right by these immigrant people he is exploiting, finding them places to live, giving them money and keeping the police off their backs. And as a side job, Uxbal can communicate with the dead and pass messages along to their loved ones. He looks at it as more a curse than a gift, of course, but he'll take the cash if someone asks for a reading.
Step 4: Put in the real kicker.  Uxbal discovers he has advanced prostate cancer, with only a few months to live. Now it becomes a race against time, as Uxbal tries to find suitable living arrangements for his kids. This is where Biutiful really brings you down because Uxbal seemingly has no options, and Bardem is so damn good, it physically hurts to watch him in so much misery. There is, however, a ray of hope in the form of Ige (Diaryatou Daff), the African wife of one of Uxbal's immigrant street workers. When the man is captured and deported, Uxbal lets Ige stay in his apartment – and discovers she might just be the perfect person to look after his kids. That is, if she wants the job. Daff herself is an African immigrant living in Barcelona who has never acted before in her life but does an amazing job. The excellent Alvarez as the crazy Marambra is a Spanish theater actress who has never done a film. Director Inarritu gathered an incredibly eclectic cast to tell his story, well, beautifully.
Step 5: Wonder about Senor Inarritu. He started his career in music, first as a radio DJ and then as a film composer. Biutiful is only his third feature film, following his other terribly cheerful films, 21 Grams and Babel. It's pretty obvious Inarritu marvels the human condition as it relates to tragedy, but deep down, he doesn't really want to wallow in it just for the sake of wallowing. All his films are moving and meaningful, all depressing in one way or another, but each have hope, I guess. He is also an excellent guide for his actors. It's not like Bardem needs much help, but I think he craves that tutelage, having worked with such great directors as the Coen brothers, Woody Allen, Julian Schnabel and Aleandro Amenabar. Still, there's something Inarritu brought out in his leading man that we haven't seen before in the actor's performances. Not sure if Bardem will make the Best Actor list, but Biutiful's Oscar chances for a Best Foreign Language nod are more than good, possibly even winning the award,  which would give Inarritu some much deserved recognition.
Step 6: Find Inarritu his happy place. Seriously.