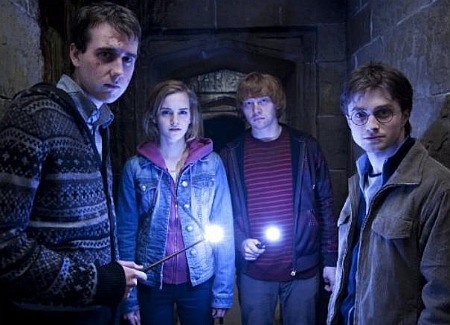 It's difficult putting into words how I feel about the end of "Harry Potter," but this last installment in what has turned out to be an incredibly entertaining movie franchise does everything it's supposed to – and more. In fact, let me count the ways – and I'll warn you now, I'm highly emotional over this.
1. Because both parts were filmed back-to-back, there is no break in the story flow, which makes it seem like you just watched the first part, even though it's been six months since "Deathly Hallows, Part 1" was released. Wow. And I remember thinking then, "Well, at least I have one more movie." Sniff.
2. You are immediately immersed, picking up where things left off, i.e. Voldemort taking the Elder Wand from Dumbledore's grave to use to kill Harry, and Harry, Hermione and Ron at Bill and Fleur Weasley's beach house, where they've just buried the beloved elf, Dobby. Harry and his stalwart two best friends must continue their quest to find the Horcruxes – the objects Voldemort has left pieces of his soul in so he can live forever – leading them to find one in Gringotts, in Bellatrix Lestrange's vault. It's the first of a series of big action sequences, and it's awesome. Hermione disguised as Bellatrix to get into the vault is hilarious, especially since Helena Bonham Carter is basically playing Emma Watson. The last remaining Horcruxes are Hogwarts, so off they go.
3. The final, all encompassing Hogwarts battle, in which Harry must finally confront Voldemort, is suddenly looming close. Harry, Ron and Hermione's reunion with their Hogwarts pals touches your heart, but Hogwarts is now a damp, dismal place under Headmaster Snape. Ah, Snape [more sniffs]… more on him later. By the time Harry figures out what the last two Horcruxes are, Voldemort and the Death Eaters are already coming. It's go time, but I feel dread just watching them wait for the onslaught.
4. Hermione and Ron finally kiss. It's immediate, passionate and should probably go down as one of the better cinematic embraces of all time, because we've been waiting for it for SO LONG. Emma Watson should get most improved over the course of the series since she started as a precocious 11-year-old who had only auditioned for Hermione as a lark. Now, she – and Hermione – have transformed into confident, beautiful young women. Her best scene overall? In "Part 1," when she has to erase herself from her Muggle parents' minds in order to go off on this dangerous quest.
5. Daniel Radcliffe and Rupert Grint have also blossomed into skillful actors. Grint was plucked from obscurity as well, a red-headed moppet who could scrunch up his face like nobody's business, while the hunt for the unknown young actor to play Harry Potter became national news. Remember how damn cute those three were in the 2001 "Sorcerer's Stone," all wide-eyed and innocent? I do. Credit must be given to those "Harry Potter" directors who shaped them: Chris Columbus ("Sorcerer's Stone" and "Chamber of Secrets"), Alfonso Cuaron ("Prisoner of Azkaban"), Mike Newell ("Goblet of Fire") and particularly David Yates, who took over the franchise with "The Order of the Phoenix" and stuck with it until the end. God bless him.
6. Snape. As played by Alan Rickman, this complicated character's true nature – and motivation — is finally revealed in "Deathly Hallows, Part 2." I'll admit, this is where I started sobbing, and while many of you who read the book know why I'm crying, some of you don't, so I won't spoil it. Suffice to say, the Harry Potter saga has attracted a laundry list of British A-listers, who have added an immeasurable amount of talent and wisdom to the franchise. Thank goodness producer David Heyman never buckled under what had to be some pressure to employ a big-name American actor. Actually, I don't think author J.K Rowling, who has been involved every step of the way, would have allowed it.
7. I also won't spoil the ending – who lives, who dies – because these films have appealed to so many people, whether they've read the books or not, that it wouldn't be fair. Big things do happen. Beloved characters do die. Hogwarts School of Witchcraft and Wizardry bears the brunt of all the action and while the final battle may not feel as massive as it does in the book, the 3D effects and cinematography are still fairly impressive. Everyone has their favorite "Potter" movie (mine's probably still "Prisoner of Azkaban"), but I bet most fans will pinpoint these last two "Deathly Hallows" movies as the pinnacle.
8. Is this really the end? It's hard to fathom since it's all still so fresh in my head. But maybe a few months from now or a year from now, it'll hit me. And I may have to pull out the first "Harry Potter" movie and watch it.