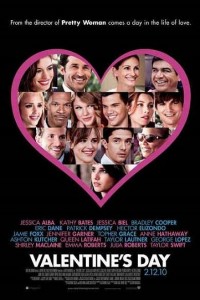 Step 1: Sigh. Sure, Valentine's Day smacks cute and is probably an adequate date movie – but it doesn't really inspire genuine tingling, feel-good sentiments that a well-crafted film of this genre should do – a film like Love Actually, the British equivalent.
Step 2: Try as you may. Valentine's Day makes a valiant effort to fulfill its expectations, with lots of pretty people, cavorting on the one day devoted to love, falling in love, breaking up, making up, deciding to and not to have sex for the first time, accepting proposals, rejecting them, admitting past infidelities, committing them now – and flying half way around the world to be with the one person who means everything to you. But unlike Love Actually, the V-Day's intertwining stories aren't all that special or even compelling. Of the jillion of actors in it – from Ashton Kutcher, Jennifer Garner, Jessica Alba, Jessica Biel, Jamie Foxx, Topher Grace, Anne Hathaway, Emma Roberts, Shirley MacLaine, Hector Elizondo – only a few stand out. Julia Roberts is definitely one, as a soldier returning home for one night before having to go back overseas, but she's onscreen all of about six minutes. As is Taylor Swift, as a dopey, hilarious, lovesick teenager. But that's about it.
Step 3: Lament the overall state of the American rom-com. This year so far has been a big bust when it comes to romantic comedies. Leap Year was abysmally dull, save for a few moments generated by Amy Adams, while When in Rome was just too silly for words. Why are the studios so afraid to step out of their comfort zone? I mean, we have some indies taking a chance and twisting the genre brilliantly, like (500) Days of Summer, a quirky, sweet and maybe not so happily ended flick but satisfying nonetheless. Or the rom-coms overseas, like Love Actually. The studio's one bright spot in the genre was last year's He's Just Not That Into You, but that might be because it was a specific theme on love and commitment – or lack thereof. Valentine's Day's generalized saccharine could be blamed on director Garry Marshall's vanilla, ultra-formulaic direction, but that, too, sounds like a cop out. No, I think the studios need to step away from what they think is safe and just mix it up.
Level of difficulty in watching Valentine's Day: It's not so bad – but it does make you want to rent Love Actually.