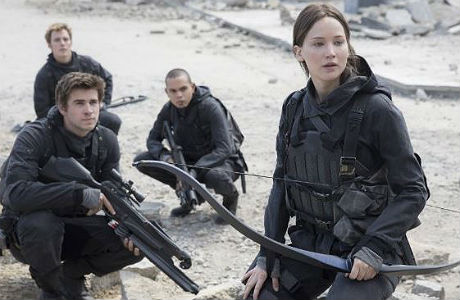 Well, it's all over. Katniss Everdeen (Jennifer Lawrence) has drawn back her last arrow and let it fly in The Hunger Games: Mockingjay, Part 2, thus concluding her long, arduous journey to find peace and happiness in Panem.
Is it a satisfying ending to a successful film franchise? I would say so. It follows the last half of the book almost to the tee, so if you were a fan (like me), seeing all the harrowing parts come to life is pretty spectacular. I understand some of the criticism that the last two Hunger Games movies didn't hold the same punch as the first two, especially since there technically were no games to survive, and how being dark just for darkness sake only drags the whole thing down. But the Mockingjay, Part 2 is still very compelling, made even more so by Lawrence's performance, who has always made the series better.
We at ScreenPicks talk at length about the Hunger Games finale, along with The Night Before, Secret in Their Eyes and Oscar bait Carol and Legend.