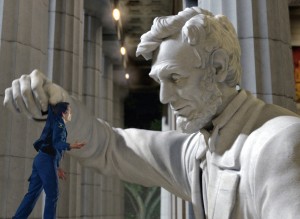 Step 1: Think about how cool it would be if the exhibits in a museum actually came to life. I do, and I'm pretty sure Night at the Museum writers Thomas Lennon and Robert Ben Garant do, too.
Step 2: Then applaud Tom and Bob (or is it Bob Ben?) for getting it right a second time with NATM: Battle of the Smithsonian, albeit on a much grander scale this time around.
Step 3: Realize it might also be almost TOO grand. There's a lot going on in this sequel. Not only does Larry Daley (Ben Stiller) have his old friends at the New York Natural History Museum — whom he has somewhat neglected since finally making a name for himself with his inventions — he also gets new friends when he has to go rescue the New York gang from the Smithsonian archives in Washington D.C. There's Amelia Earhart (Amy Adams), General Custer (Bill Hader), as well as the giant statue of Abraham Lincoln, Rodan's The Thinker sculpture, and several miniature bobble-headed Albert Einsteins, among others. Larry meets up with some bad historical guys, too, namely Kahmunrah (Hank Azaria), the meaner elder brother of Akmenrah (Rami Malek), who has "come BACK to LIFE!" to take over the world with his Army of the Underworld and elicits the help of Ivan the Terrible (Christopher Guest), Napoleon (Alain Chabat) and Al Capone (Jon Bernthal) to do it. Suffice to say, Larry has his hands full in this one.
Step 4: Be thankful it's Stiller's hands that are full. Much more confident this time around, his Larry knows how to handle the situation and not freak out like he did in the first NATM. He is the straight man that keeps the whole thing together, as the madness around him escalates. Except he still freaks out, a little. Adams has got "moxie" as Earhart, standing around with her hands on her hips, ready to take on the world. Except that spunk gets a little annoying. Hader as Custer is what the writers call the "anti-Teddy Roosevelt," who has got the balls but does things all wrong. Except when he gets it right every once in awhile.
Step 5: Also be grateful Hank Azaria is in the movie. The guy is so underrated in my opinion. He not only plays the lispy Egyptian bully with aplomb, he also voices Abraham Lincoln ("Blah, blah, blah … I NEVER LIE!") and The Thinker ("Look at the gun show over here. Boom! Boom! Firepower!"). Azaria most definitely provides the most laughs. Returnees Robin Williams, Steve Coogan and Owen Wilson don't do a bad job, either. Oh, and see if you can guess who sings sweetly as the Cherubs.
Step 6: Refer to Step 1. Bringing museum artifacts, paintings, sculptures and exhibits to life is genius — and director Shawn Levy, taking the NATM reins for a second time, certainly has a handle on visualizing it. I think my favorite part in this sequel is seeing famous museum pieces — such as The Thinker, Dega's ballerina sculpture and that great Life magazine V-Day photo of the American sailor kissing the nurse on the streets of New York — spring to life. And the whole sequence in the Smithsonian's Air and Space Museum is way cool. Kids are going to eat it up.
Level of difficulty in watching Night at the Museum: Battle for the Smithsonian: Relatively easy. Maybe not as fresh and unique as the first NATM, the sequel has enough laugh-out-loud moments to enjoy.