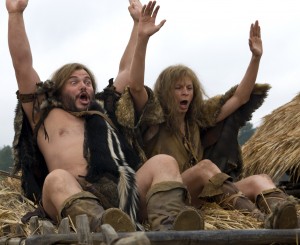 Step 1: Dress Jack Black and Michael Cera up in loin cloths, throw them into some Old Testament scenarios and let the few laughs roll in. Pointless and droll? Definitely, but Year One still has its moments.
Step 2: Realize the absurdity of it all. I mean, Jack Black and Michael Cera play Cro-Magnons named Zed and Oh, respectively, who wear loin cloths, for heaven's sakes. You know what you're in for. It starts out funny enough, with Zed and Oh forced to leave their village. Well, Zed is forced because he ate fruit from the Tree of Knowledge, but he burns down Oh's hut, so Oh doesn't really have any other choices but to go with him. Then they embark on what the film likes to call the world's first "road trip," meeting Book of Genesis icons along the way such as: THE Adam (Harold Ramis), his bickering sons Cain (David Cross) and Abel (Paul Rudd), as well as circumcision-loving Abraham (Hank Azaria)  and his rebellious teen son Isaac (Christopher Mintz-Plasse). Zed and Oh then end up in the doomed city of Sodom, where the film spirals further down into ludicrousness.
Step 3: Thank Michael Cera for participating. Without him tempering Black's sometimes humorous obnoxiousness, Year One would be a long haul. Cera has an uncanny ability to deliver the most ridiculous of lines with a dry, understated wit that just cracks me up. Of course, he does keep playing the same innocence incarnate over and over again in his films – either paired with an overweight loudmouth (Superbad) or snarky chick (Nick and Nora's Infinite Playlist, Juno). But I'm not tired of Mikey yet. Thank Hank Azaria, too. Like he did in Night at the Museum 2, Azaria steals the few scenes he is in as Abraham ("We'll cut our penises and then we'll have some wine and sponge cake!") The guy is on a roll.
Step 4: Co-writer/director Harold Ramis admits he thought of Year One after listening to Mel Brooks' "2,000-Year-Old Man" routine. His first time behind the camera since 2005′s The Ice Harvest, Ramis totally plays it old school with Year One, going back to his comedy roots and channeling the silliness of a Brooks movie. In fact, the film is a lot like a part to History of the World Mel Brooks didn't get a chance to make. That's fine, but in this day and age of the Judd Apatows and Todd Phillips, the veteran comedy maker isn't quite fitting in.
Level of difficulty in watching Year One: Not SO hard, I guess. OK, Year One could make you cringe, but what can I say? All I had to do was look at Michael Cera's face, and I laughed.