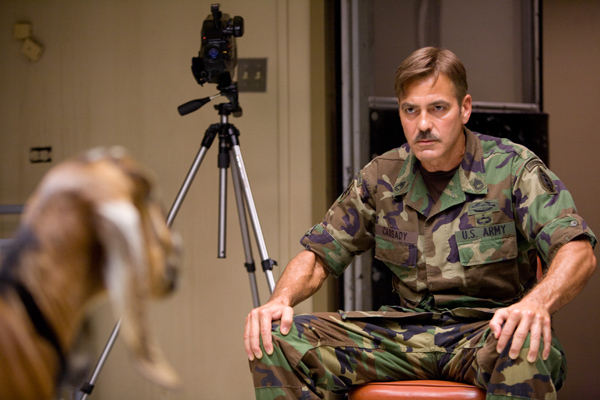 Step 1: Take a wonderfully farcical premise based on fact and turn it into a mostly entertaining, sometimes sluggish film about Men playing preposterous war games – with their minds.
Step 2: Stare at a goat really hard to see if you can make it fall down dead. That's just one of things Lyn Cassady (George Clooney) was trained to do when he joined the New Earth Army back in the day, a top-secret, experimental military unit in which soldiers became "Warrior Monks" and were taught to use psychic powers for warfare. But since the dismantling of the unit, the soldiers have scattered to the winds, including the New Earth Army's founder Bill Django (Jeff Bridges) and of course, Cassady. That is, until a reporter named Bob Wilton (Ewan McGregor), looking for a big story, meets Cassady in the Middle East and finds out about this unique military operation. He then accompanies Cassady on a mind-boggling new mission to search for the missing Django.  As wacky as it all sounds, it's the real truth behind it that is hard to believe.
Step 3: If you can't bring the goat down yourself, get George Clooney do it. The guy has been on an amazing roll lately. He voices the wily Mr. Fox in the upcoming stop-motion animated Fantastic Mr. Fox, stars in the Oscar baiter Up in the Air – and has a crazy old time in The Men Who Stare at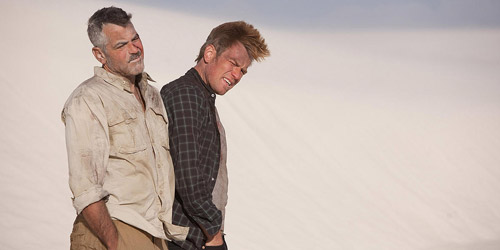 Goats, teaming up with his old friend and producing partner Grant Heslov, who makes this his directorial debut. It just seems like the actor is having the time of his life as Cassady, like when he makes clouds disperse, or when he does indeed stare at a goat. Bridges is also in fine form as the former war hero who goes all New Age-y and decides to apply some of his feel-good ideologies to military training, while Kevin Spacey plays Larry Hooper, the antithesis to Bridges' Django, a trained Warrior Monk who takes his skills and uses them for more nefarious purposes. Only McGregor falters a bit, stuck playing the reactor, but he does have some hilarious moments with Clooney.
Step 4: Remember that the goat thing is actually true. Yep, Goats is inspired by  journalist Jon Ronso's bestselling book about a real, U.S. government-funded military operation – the First Earth Battalion – which developed methods of combat by only using the mind. Stranger things have happened in the name of progress, I suppose, but what a great premise for a movie. Problem is, while being hysterical through the first half, Goats loses its ironic edge towards the end, dragging it down a bit. One wonders what the Coen brothers, Clooney's other best friends, would have done with it.
Level of difficulty in watching The Men Who Stare at Goats: Relatively easy. The title is just awesome enough; I'm seriously thinking about visiting a petting zoo soon …